Ezra Brooks® Launches New Seasonal Variant and Updates Packaging
July 20, 2016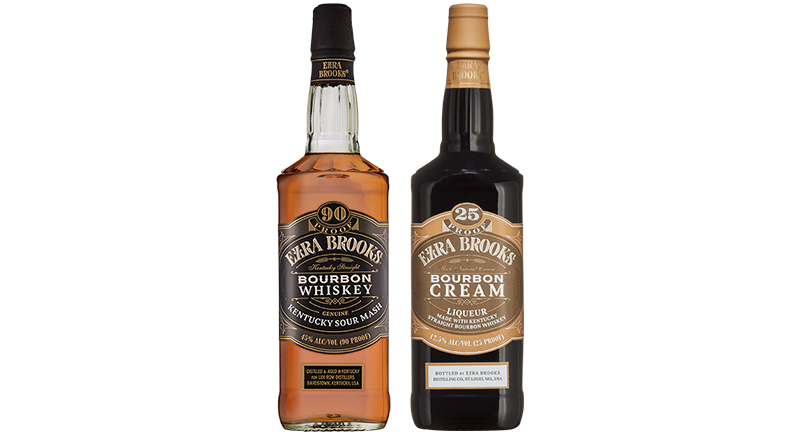 Brand Releases Ezra Brooks Bourbon Cream®
(St. Louis) July 20, 2016 – Luxco announces a new look for iconic brand Ezra Brooks® Kentucky Straight Bourbon Whiskey and the launch of Ezra Brooks Bourbon Cream®. The brand, which dates back to 1957 and has been a part of Luxco's portfolio of whiskeys since 1993, will continue to provide four variants for consumers with a taste for adventure.
"The domestic whiskey category continues to grow rapidly – more than four percent in the past 12 months – and the Ezra Brooks brand is keeping pace with this growth*," says Fletcher Buchman, brand manager at Luxco. "This is the perfect brand family for anyone who enjoys bourbon, as the Ezra Brooks family of bourbon offers a few choices on proof and flavor profiles."
The brand is also launching the new Ezra Brooks Bourbon Cream, available seasonally in the fall and winter. This creamy addition to the family of products offers a buttery, caramel and toffee flavor with a touch of cinnamon and nutmeg. It will be available in 750ml bottles, at 25 proof with a suggested retail price of $12.99-$14.99.
Ezra Brooks' new look includes a new corked bottle with a premium matte-finish closure capsule. In addition, a higher end label offers the bottle a craftier look and feel. The brand has recently earned top honors at the San Francisco World Spirits Competition, taking Gold for Old Ezra Seven Year and Silver for Ezra Brooks Black Label and Ezra B 12 Year Single Barrel in 2015.
Ezra Brooks is aged the old-fashioned way and then charcoal filtered for an unmistakable flavor. The brand family – all offered in 750ml bottles and ranging in suggested retail prices of $11.99 to $26.99 – includes:
Ezra Brooks Kentucky Straight Bourbon Whiskey, bottled at 90 proof and offering a mellow flavor with hints of spice and chocolate and a smooth finish.
Ezra Brooks Blended Whiskey, bottled at 80 proof and offering a genuine Kentucky sour mash recipe with a light, warm finish.
Old Ezra Seven Year Kentucky Straight Bourbon Whiskey, bottled at 101 proof and aged a full seven years for a buttery long finish and deep, rich taste.
Ezra Brooks Bourbon Cream, bottled at 25 proof and offering a rich caramel and toffee flavor with a smooth, creamy finish.
For more information about Ezra Brooks, please visit www.ezrabrooks.com.
*Source: NABCA and DISCUS 9L R12 through December, 2015
About Luxco
Luxco, Inc. is a leading producer, importer and marketer of beverage alcohol products. Our mission is to meet the needs and exceed the expectations of our consumers, associates and business partners. Founded in St. Louis in 1958, where it is headquartered, it is owned and operated by the Lux family. Its portfolio of brands include: Juarez Tequila & Triple Sec, Pearl Vodka, Everclear Grain Alcohol, Arrow Cordials, El Mayor Tequila, Ezra Brooks & Rebel Yell Bourbons, Lord Calvert Canadian Whisky, St. Brendan's Irish Cream, Salvador's Cocktails, Yago Sant' gria and other well-recognized brands. For more information about the company, visit www.luxco.com.
For more information, please contact:
Pia Reinhold at preinhold@commongroundpr.com
Maggie Hallam at mhallam@commongroundpr.com