George Remus® and Rossville Union® Single Barrel Selections Arrive at Participating Retailers
October 15, 2021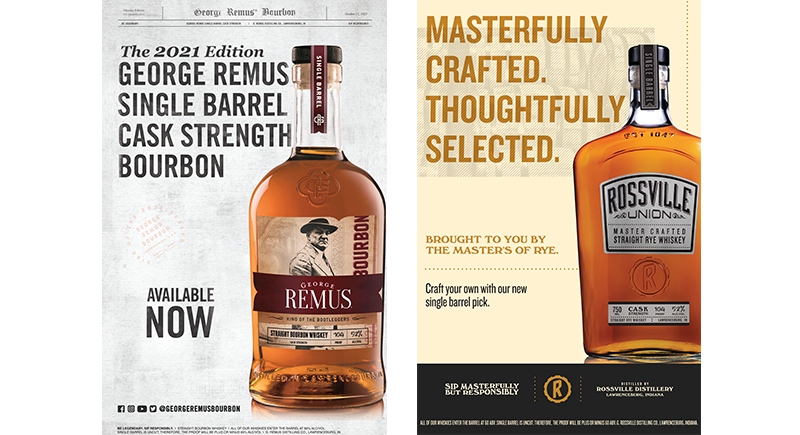 The late summer months marked the arrival of two of Luxco® Branded Spirits' newest Single Barrel programs at retail. The George Remus® Bourbon Single Barrel selections hit retail shelves in September – just in time for National Bourbon Heritage Month. Rossville Union® Single Barrel selections arrived in August in conjunction with National Rye Month. Participating retail accounts were invited to virtually connect with the distillery team at MGP's historic distillery in Lawrenceburg, Indiana, to taste, select and order selections from the two Single-Barrel programs' five unique mash bills:
The George Remus Bourbon Single Barrel program for 2021 offered single-barrel selections at cask strength in two mash bills – both of which reflect the brand's high-rye bourbon character.
The Rossville Union Single Barrel program featured three separate mash bills from the largest distiller of rye whiskey in the U.S.; each offered cask strength.
Participating retailers could customize the label on their 2021 George Remus Bourbon or Rossville Union Single Barrel selections, enhancing the collectability of these unique offerings. Each barrel order yielded 29 6-pack cases, on average. Before the arrival of their Single-Barrel orders, retailers received support materials – including customizable point-of-sale materials and digital assets – to help tell consumers about their selection. Additionally, retailers were invited to "Order the Barrel" to display their selections proudly.
Suggested retail prices for both George Remus Bourbon Single Barrel and Rossville Union Single Barrel selections are $59.99.