Get to Know Green Hat® Distillery
October 15, 2021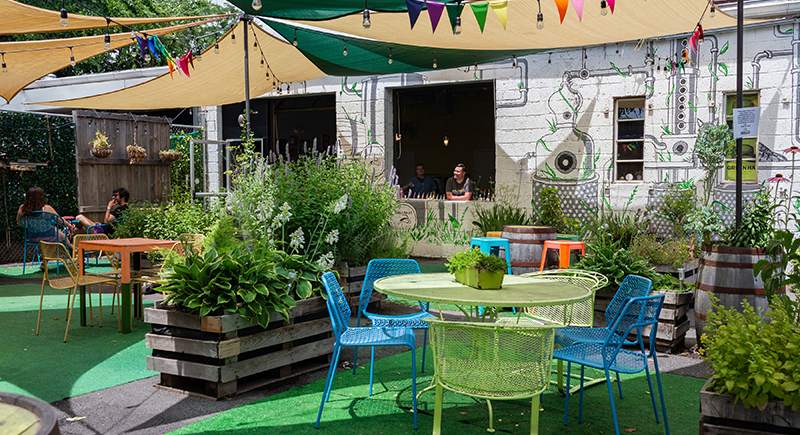 The story is almost as good as the gin. During Prohibition, George Cassiday—a bootlegger known for his signature green fedora—provided Congress with a steady stream of libations. Nearly a century later, Washington D.C.'s first licensed distillery since Prohibition pays homage to the mysterious man in the green hat. Green Hat® Gin, housed in a historic warehouse, operates its distillery and its retail tasting room, bar, and gin garden in the Ivy City neighborhood of Washington, D.C. Green Hat delivers premium gin crafted with a unique blend of botanicals from its copper pot stills.
The distillery has become a destination for gin lovers. It is home to several award-winning gin varieties, including the Original Batch, Navy Strength, Citrus/Floral, and Summer Cup. Green Hat's Citrus/Floral recently won "Gin of the Year" and a Double Gold from the Bartender Spirits Awards.
This past summer, Green Hat Gin reopened its distillery to the public, allowing guests to experience its craft gins once again on-site in D.C. Visitors can enjoy cocktails at the Green Hat Bar and Gin Garden and speak with the distillers and mixologists. It's no wonder USA Today named Green Hat one of the Top 10 Best Craft Gin Distillery in the country. It was also named "Gin Producer of the Year" by the Bartender Spirits Awards in June.
"The Green Hat Gin brands have been so well received by experts and enthusiasts alike, it's great to be able to welcome them back to where it all started," said Brand Manager Shanae Randolph.
The Man in the Green Hat kept a black book of his customers. Now we do too. Follow @GreenHatGin on Facebook, Instagram and YouTube to learn more.