HAPPY 30TH ANNIVERSARY LINDA CHAVEZ
April 12, 2017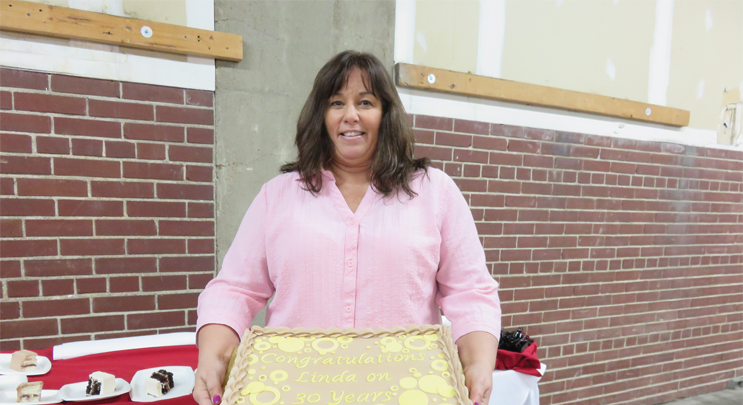 In 1987, Linda Chavez was waiting tables at Lou Boccardi's, where the Luxco team usually has their holiday luncheon. She enjoyed listening to the business conversations of the group and found them to be interesting. After an opening came up for a receptionist, they reached out to her. She took the job and never looked back.
Now, as Linda celebrates her 30th anniversary with the company, she works as a sales administrator for the open states in the East Business Unit. After about six years at the company, she moved to a new position dealing with labels and state registrations. Her job eventually moved under the sales division, so she began working on price postings for open states in addition to her current job. She is still doing a version of the same job all these years later, with some more tasks added, albeit now her position is within the finance department.
"There have been so many changes over the years. When I first started working here, it was a small company, and we all shared a computer terminal. I have been amazed at the enormous growth and progress that has happened over the last 30 years," says Linda.
Linda has enjoyed her time at Luxco as well as all the changes. She says her favorite part of the job is that there is always some new challenge, a new problem to fix, or changes that need to be accommodated. "I love a challenge and working to make things better," she says.
During her time at Luxco, her excellent work has been noticed. She received the Outstanding Employee Award in 1994, and then had the honor of being a Paul A. Lux Award recipient in 2010. "I worked with Mr. Lux when I first started, and he had a hand in hiring me, so this award means a lot to me," says Linda.
A native St. Louisan, Linda enjoys spending time with her family, her bowling league, and cruising around in their '67 Charger on nice days when she's not working.
"Luxco is a unique company – you are really treated like family, not an employee. We have a close-knit group here. Some of my colleagues and I have worked together for more than 20 years," says Linda. "It makes me so proud to look to the future of the company, especially with the new distillery coming along."
Congratulations, Linda, on 30 years as part of the Luxco family!