HAPPY 35TH ANNIVERSARY JEFF JONES
April 11, 2017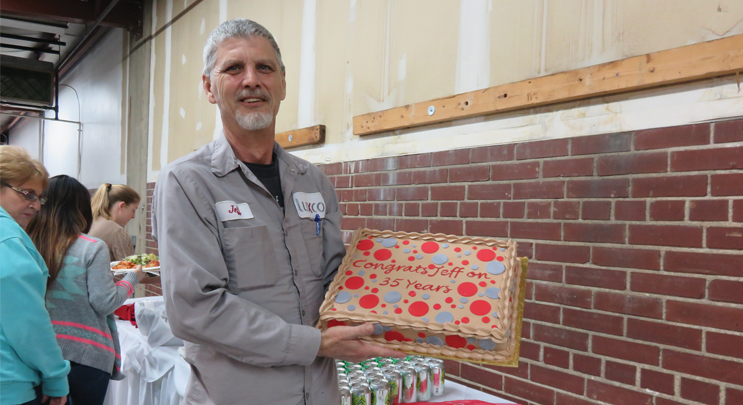 In 1982, Jeff Jones joined the Luxco team at the Kemper location as Miscellaneous. He worked on a variety of tasks; hand packing bottles, inspecting and dumping glass, and learning about the various other jobs around the facility.
After about five years, he became a Label Operator, and he has been working at this job ever since. On a daily basis, he will oversee various lines, ensure that the labels are correct, check that all caps are on properly, and confirm that the bottles look good before they leave the facility.
You can tell he has a lot of pride in the job he has perfected. "Every time I go to the store, I head straight for the spirits section," says Jeff. "I like to make sure the bottles look good on the shelves, and I like to see if they came off my line."
While he enjoys making sure his work is high quality, Jeff says the best part about the last 35 years working at Luxco is the people. Some of his co-workers have retired, but a few that are still at Kemper, have worked alongside Jeff for more than 30 years. "I knew this was the right place to be when I first started here when Paul Lux would stop by the bottling shop to have a conversation and help out. I knew this was going to be a place where we would all be treated like family," he says.
An avid fisherman and outdoorsman, when not at work, Jeff enjoys time with his wife and two kids and time outdoors – eventually wanting to settle down on a piece of land in the country.
Congratulations, Jeff, on 35 years as part of the Luxco family!