HOCKEY TIME IN ST. LOUIS 2017 WINTER CLASSIC TAKES THE TOWN BY STORM
April 5, 2017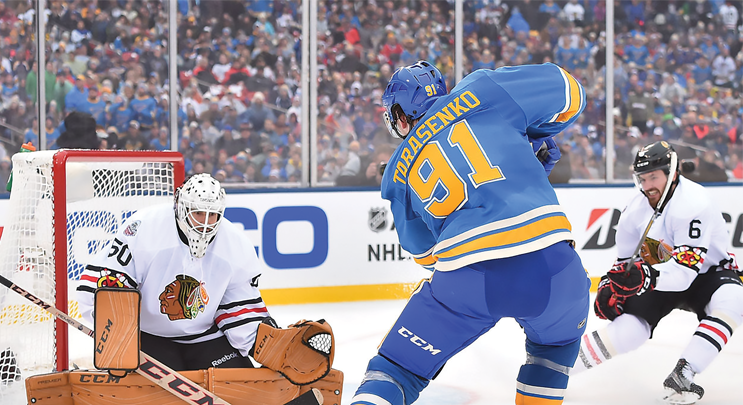 St. Louis is a hockey town, and it was quite evident this winter as the city came together to watch some one-of-a-kind games. The 2017 NHL Winter Classic festivities brought together two of St. Louisans' favorite things – Blues hockey and Busch Stadium. Crowds gathered to watch these hockey activities as the iconic Busch Stadium was transformed into an ice rink.
It started with 40,000 fans packing Busch Stadium on December 31st to watch the Winter Classic Alumni Game between retired St. Louis Blues and Chicago Blackhawks players. This included Blues legends Brett Hull, Wayne Gretzky, Al MacInnis, and Keith Tkachuk. Fans then came together for a regular season game between the Blues and Blackhawks. Even with the fog and rain, it was outdoor hockey at its best—and so were the St. Louis Blues, overcoming Mother Nature, and winning both the alumni and the regular season games.
And if these exciting games weren't enough, the events also included St. Louis' Greatest Pick-Up Hockey Game, which took place on January 8th at Busch Stadium during the Winter Classic closing ceremonies. Blues Chairman Tom Stillman and St. Louis Cardinals President Bill DeWitt III each captained a team of Blues, Cardinals, and local celebrities in the Pick-Up game. Former Blues star Brett Hull, along with former Cardinal players Jim Edmonds and Kerry Robinson, were among the group of players participating in the event.
Proudly wearing jersey No.17 was our very own Donn Lux, representing both Luxco and the Blues—and playing for the winning team. "It was incredibly fun to join those guys on the ice. We all love the Blues and St. Louis, and there's no better way to play hockey than to benefit our home town,"
said Donn.
The Winter Classic events also included a skills competition where current Blues players competed for locker room bragging rights, and local police offers and firefighters participated in an on-ice battle. All proceeds of the events benefitted the St. Louis community through Blues for Kids and Cardinals Care.
"It's undeniable to say this was a special weekend for St. Louis, for the Blues, and for my family," said Donn.
Wrapping up the fun for hockey fans in St. Louis (until playoffs!) was the Steinberg Winter Classic. On the weekend of February 24-26, the Steinberg Skating Rink in St. Louis' Forest Park hosted a three-on-three hockey tournament. The outdoor hockey event, started by Joe Fresta, raises funds for the Cancer Care Foundation, which aids local families affected by the disease. Luxco was a proud sponsor of the event, donating products for the bar, contributing to the players' swag bags, and sponsoring one of the ice rinks. Getting involved in meaningful events is important to who we are as a company, and we love supporting causes so close to home.
"This is the sixth year of the hockey tournament, and it's a lot of fun for kids and adults, also benefitting a good cause," said Donn. "We are pleased to be involved in it every year, helping to make it a success."
"It's undeniable to say this was a special weekend for St. Louis, for the Blues, and for my family."
– Donn