HOT BRAND! EL MAYOR UP OVER 7%!
January 5, 2015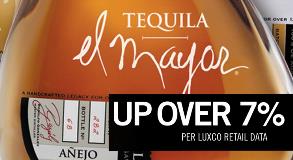 El Mayor Tequila is a hit with both critics and consumers! Not only is El Mayor gaining traction both on- and off-premise, but now critics are taking notice as well!
El Mayor received rave reviews on Monsters and Critics in a feature on Man-Cave Cocktails. Monsters and Critics is a well-established magazine blog with 2-4 million unique viewers per month, and they expressed their excitement for our tequila through this review.
"El Mayor es muy bueno. This is ultra-premo, top-shelf stuff to be served at room temp and unmixed. Let me start by saying, it is a sexy looking bottle that would look great on any bar. You can taste the barrel and the woodyness in the Reposado, it was silky going down. The Anejo was more aggressive, a little sharper and warmer."
THE TASTING PANEL is well versed in all categories of the alcohol beverage industry, and they also had glowing reviews for El Mayor, stating:
"We witness the arrivals, growth and successes of thousands of brands. Therefore, it's worth noting when a product stops us in our tracks and grabs our attention for all the right reasons. This year, that product was El Mayor Anejo and we want to thank you for embracing such a high standard in quality. You have received THE TASTING PANEL Award of Excellence."

Additionally, El Mayor Anejo recently took top honors in packaging from the Tasting Panel!
This is just the tip of the iceberg for El Mayor. We have a lot of exciting promotional plans for 2015 which will continue to turn heads, create buzz and move cases!
El Mayor is available in four award-winning varieties: Blanco, Reposado, Anejo, and our limited-edition Extra Anejo.