HOT BRAND! PURPLE PASSION UP 66%!
October 6, 2014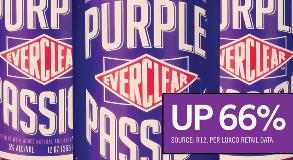 PURPLE PASSION IS FEELING THE LOVE! IT TURNS OUT, THERE IS SOME FIRE TO GO ALONG WITH THAT PASSION!
UP 66%!
Source: R12, per Luxco Retail Data
Ever since the rebirth of the original formula and new package for Purple Passion, consumers everywhere have been reliving the glory days and partying 80's-style! The buzz around the brand has been extremely positive, with older drinkers loving the nostalgia and new drinkers loving the retro vibe.
Trade pubs, blogs and consumer reviews have been picking up the story of Purple Passion and broadcasting it to the masses, however we are just getting started! Promotional plans and impactful POS for 2015 will be sure to knock the socks off consumers and continue the momentum into the new year!
Suggested retail price for the 4-pack of Purple Passion is $7.99.
Spread the good word… Purple Passion is BACK!