INTO THE WOODS … LUXCO STYLE
July 5, 2015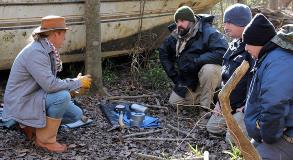 The premise of The Weather Channel's "Fat Guys in the Woods" television show is simple: Take three "average Joes" and send them out into the wilderness – that bug-infested place with no couches or potato chips – where they will learn to survive without life's creature comforts. (Read: No Blood Oath bourbon allowed.)
Luxco MRO Buyer Eric Pikey was up for the challenge.
"I stumbled across 'Fat Guys in the Woods' during season one, and I really loved it from the start," Eric says. "To be on the show, you had to send in a photo and fill out a questionnaire. I never thought it would happen!"
After several interviews, though, Eric was chosen to participate. Along with The Weather Channel's resident Survival Expert Creek Stewart, Eric and two other guys faced nature's reckoning; their episode will air July 12.
"So the premise of the show is that we go out with Creek for four days and nights, and he teaches us to build shelter, make a fire, scavenge and hunt," Eric explains. "On the fifth day and night, we're on our own."
Eric can't reveal details about exactly what happened – you'll just have to tune into the show – but he did learn a great deal from Creek and is still friends with his fellow 'Fat Guys'. They've even made plans to get together next September.
"Luxco was really great about working with my schedule to make sure I could do the show," Eric concludes. "The whole experience was amazing."