INTRODUCING BLOOD OATH – PACT NO. 1
April 17, 2015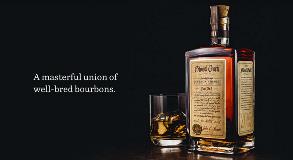 We are proud to announce the launch of the first iteration of our new limited release, ultra-premium bourbon series, Blood Oath. This brand-new craft bourbon whiskey series is unique to the market, highlighted by a different variant, or "Pact", each year. The inaugural Pact for 2015 consists of a special blend of three carefully selected, top-notch Kentucky Straight Bourbon Whiskeys, blended and bottled by hand, resulting in one distinctly exclusive and unimagined bourbon. The debut combination, bottled at 98.6 proof and named Blood Oath Pact No. 1, is available in limited quantities nationally in 750mL bottles, with a suggested price of $89.99.
"I have the luxury of not being tied down to one specific distillery, so I sampled many bourbons to find the perfect mix to make Blood Oath Pact No. 1," explained John Rempe, Director of Corporate Research and Development at Luxco and creator of Blood Oath. "This product is an exquisite union of three well-bred bourbons with various age statements and mash bills. The first, a spicy bourbon with a mash bill favoring rye, barrel aged for a subtle woodiness. The second is a smooth, wheated bourbon and the third is a full-bodied, more experienced, oaky bourbon with a rye-based mash. Each of these complement the other and none overpower the palate, creating an amazing bourbon."
The bourbons in Pact No. 1 range from 6 to 12 years old.
Blood Oath's unique package is topped with a custom, natural cork and labeled with a heavy certificate-style paper stock. Rempe's signature, along with the specific bottle's creation date and the story behind the pact, mark each bottle label.
"We are extremely excited to launch Blood Oath," said Steve Einig, Chief Marketing Officer at Luxco. "We wanted to create something that not only appealed to bourbon enthusiasts around the country, but also a product that we could truly enjoy. Blood Oath accomplishes this and we are proud to launch this bourbon."
After Pact No. 1's limited edition run, Pact No. 2, consisting of an entirely new combination, will subsequently be released in 2016.
For more information on Blood Oath, Visit Blood Oath Bourbon.