Introducing Luxco's Newest and Oldest Distillery Ross & Squibb Distillery™
January 5, 2022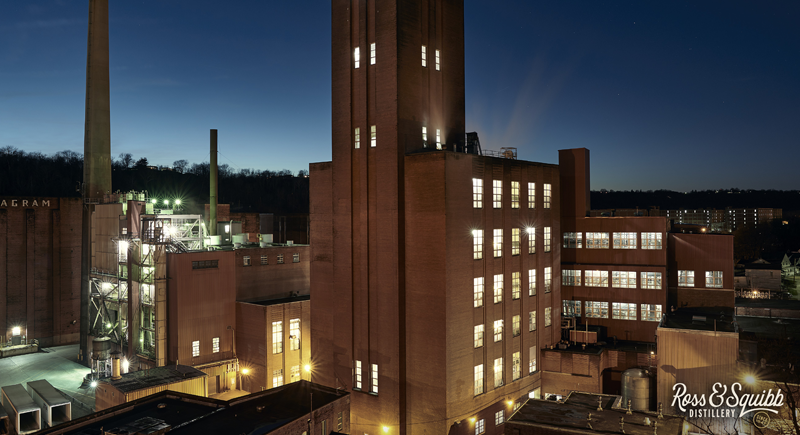 This fall, the distilling home of George Remus® Bourbon and Rossville Union® Rye Whiskey in Lawrenceburg, Indiana, wrote a new chapter in its illustrious 174-year history!
Ross & Squibb Distillery™ now takes its place next to fellow branded Luxco® distilleries, including Lux Row Distillers™, Limestone Branch Distillery™, Destiladora González Lux, and Green Hat® Distillery.
Like the brands it produces, Ross & Squibb Distillery pays tribute to Indiana's distilling history and the pioneers who transformed Lawrenceburg into "Whiskey City USA." The Ross & Squibb name is a celebration of two such stories:
"Ross" is inspired by the legacy of George Ross, who in 1847 founded the Rossville Distillery, located on what is now the Ross & Squibb Distillery campus. Sometimes cited as the "Rossville Union Distillery," it inspired the Rossville Union Straight Rye Whiskey brand. Considered one of Lawrenceburg's original distilleries and the only one still producing whiskey today, Rossville Distillery has produced some of the finest rye whiskeys the world has ever seen. Over the past 174 years, the distillery has experienced several ownership changes, as well as a devastating fire in 1932 that destroyed much of the facilities. MGP purchased the distillery and related assets in 2011, and MGP's historic distillery in Lawrenceburg, Indiana, was born.
"Squibb" calls back to the historic Squibb Distillery, founded in 1869 in Lawrenceburg and later purchased in 1921 by the King of the Bootleggers himself – George Remus. The pharmacist/lawyer-turned-bootlegger leveraged his pharmaceutical background and keen legal mind to grow his illegal bootlegging empire upon the passage of the Volstead Act in 1918. The Squibb Distillery was a significant component in his scheme to exploit loopholes in the new law. As it turns out, it was whiskey from Lawrenceburg that proved Remus' undoing.
During the September announcement ceremony and celebration, MGP's Chief Operating Officer and President of Luxco Branded Spirits, David Bratcher, had this to say about the new Ross & Squibb Distillery:
"Indiana – and particularly Lawrenceburg – has a rich and important distilling history, as well as no shortage of stories and characters when it comes to the Prohibition era. In rebranding the distillery, we sought to celebrate this wealth of distilling history, as it already has served as the inspiration behind our branded spirits. All Ross & Squibb brands took their names from elements of Indiana distilling history, so it fits the distillery now as well!"
Congratulations to Ross & Squibb Distillery!