Jessie Haupt – Finished Goods Inventory Planner
December 30, 2013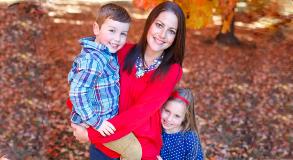 There is something about Luxco that tends to bring good people back time and time again, and Jessie Haupt is no exception!
First joining the Luxco family in 2005, Jessie Haupt started as the off-premise inventory planner. After working here for a little over a year she took some time off to raise her children and to get her Masters in Business Administration from Webster University. She returned to Luxco at the beginning of 2013 as the Finished Goods Inventory Planner, focusing on production planning and scheduling. Aside from her MBA, Jessie has a Bachelor of Science in Speech Communication from Southern Illinois University.
Complementing her impressive academic qualifications, Jessie's background in retail buying and inventory management has proven to be an important asset that has allowed her to excel here at Luxco.
Jessie grew up in Decatur, IL, and currently lives in Fenton, MO with her husband,
Stevie, and their two children, Ayden (6) and Jackson (5). Jessie loves staying active during her free time, playing golf, hiking and boxing.
Thank you Jessie, for all that you do!