Lady Bligh Back-To-School VAP Program Ready to Launch
March 11, 2014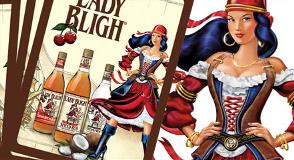 Lady Bligh is ready to break out this Summer by launching the unique playing card VAP program!
We have a great opportunity to elevate the Lady Bligh brand, build brand equity at point of purchase and gain shelf space within the Spiced Rum category. By providing a VAP featuring a custom Lady Bligh deck of cards on 1.75L bottles, supported by Retail POS, we can effectively promote Lady Bligh off-premise during the seasonal, back-to-school peak for the brand.
Marketing has already purchased a quantity of the actual playing card VAPs and created POS templates for BrandMuscle. All printed POS will be charged to your DM allowance.
Check out the sales deck for more details. Also, please view the important information and dates below regarding ordering windows and launches.
Important Information & Key Dates
March 21st: VAP Allocations Due

Please send completed excel spread sheet (attached) for your area back to Molly Culver

March 28th: Confirm Allocations

Molly Culver will send out final allocations to each DM

May 1st: POS templates available on BrandMuscle
Retail POS templates available to order on Brand Muscle (you will receive an email blast from Sara Crandall at Brand Muscle)

July 1st – September 30th: Targeted Display Dates

Product on shelf in time for back to school/college
***Please contact Molly Culver or Brian Labuda with any comments or questions.