Limestone Branch Distillery Launches Bowling & Burch Premium Gin
November 7, 2019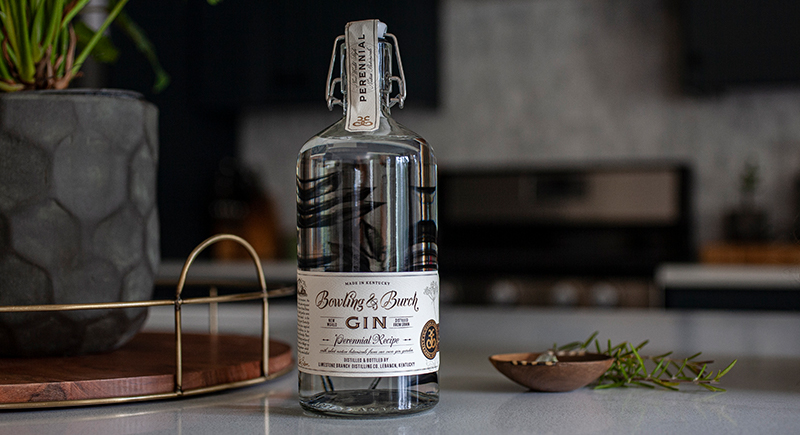 (Lebanon, KY.) November 7, 2019 – Limestone Branch Distillery launched a new world gin, Bowling & Burch. The gin is named after Head Distiller Steve Beam's two sides of the family who were in agriculture and also horticulture enthusiasts. "This new world gin was born from the passion my ancestors and I have for gardening, as well as for creating high-quality spirits, of course," says Steve, head distiller at Limestone Branch Distillery. "With my background in horticulture, I wanted to experiment with botanicals grown here locally and create something truly special."
Beam graduated from Purdue University with a degree in Landscape Architecture and was the Chair of the Horticulture committee of Miami Beach Botanical garden for a few years before coming back to his family's legacy of distilling. He is now able to merge his twin passions for distilling and horticulture into Bowling & Burch gin.
Distilled and bottled at Limestone Branch Distillery, the gin includes 17 botanicals, some of them grown on site at the Lebanon distillery. Bowling & Burch is bottled at 96 proof and packaged in a unique and artful screen-printed apothecary style 750 ml bottle. Beam also notes he used a custom still fabrication in order to capture the most delicate essence of the botanicals.
"We wanted a truly artful bottle to represent how distinctive the gin is and also to showcase the botanicals used to create this balanced flavor profile, such as lemon verbena, bitter orange, rosemary and honeysuckle" says Steve.
As super-premium gin increases in popularity and more bartenders are experimenting with this spirit in cocktails, Bowling & Burch is making its first appearance this year at Portland Cocktail Week. The gin officially launches in select key markets in early 2020, including Pennsylvania, New York, Ohio and Florida.
About Limestone Branch Distillery
Steve Beam and his brother Paul Beam opened Limestone Branch Distillery in 2011, with the goal of crafting the finest whiskey in small batches. With a history of distilling on both sides of their family – Beam and Dant – the brothers are seventh-generation distillers. In 2015, they brought the Yellowstone brand back to the family and launched a limited edition bourbon to commemorate the brand's 105th anniversary.
For more information on Limestone Branch Distillery, please visit www.limestonebranch.com or www.facebook.com/limestone-branch-distillery.
For more information, please contact:
Pia Reinhold at pia@commongroundpr.com