Limestone Branch Distillery Launches Yellowstone® Limited Edition Kentucky Straight Bourbon 2019
July 24, 2019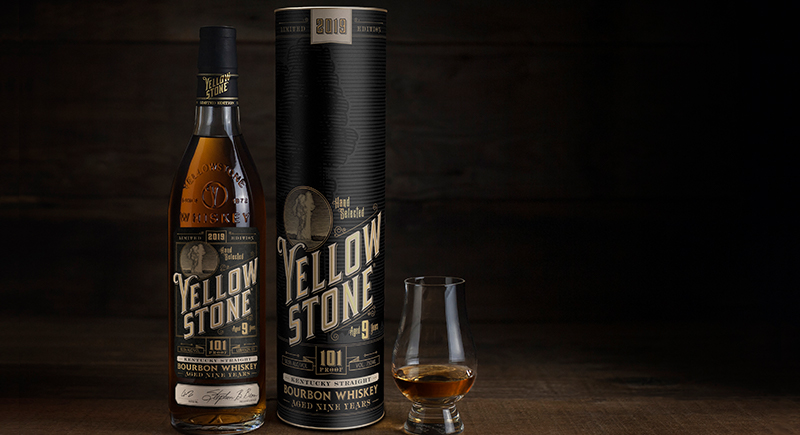 (Lebanon, KY.) July 24, 2019 – Limestone Branch Distillery introduces the 2019 variety of Yellowstone® Limited Edition Kentucky Straight Bourbon, set to hit the market in August. This year's edition includes a hand-picked selection of the most unique barrels – those hidden gems in the rick house – including barrels of extra-aged nine-year and 12-year Kentucky Straight Bourbon Whiskey.
"I tasted many quality, mature Kentucky Straight Bourbons in order to find the right two ages for this year's release – I had a certain taste profile in mind and I sought those barrels that matched it," says Steve Beam, head distiller at Limestone Branch Distillery. "The barrels I chose were in different parts of the rick house and each barrel's unique location contributed to the taste profile and complexity of this bourbon. When combined, these extra-aged bourbons create a mature and complex bourbon with robust spice and oaky undertones."
Yellowstone has been one of Kentucky's favorites since 1872. This year's edition brings cinnamon notes with toffee, dried fruit and a hint of citrus to the palate, followed by a dry finish of brown sugar and oak. Using Beam's expertise and honed palate, only the finest barrels were chosen for this year's release.
Bottled at 101 proof and available in 750ml bottles nestled in commemorative tubes, the 2019 Yellowstone Limited Edition continues to honor the long-standing tradition.
Approximately 12,500 bottles of this bourbon are being produced at Limestone Branch Distillery, and the suggested retail price is $99.99.
About Limestone Branch Distillery
Steve Beam and his brother Paul Beam opened Limestone Branch Distillery in 2011, with the goal of crafting the finest whiskey in small batches, honoring their long family heritage. With a history of distilling on both sides of their family – Beam and Dant – the brothers are seventh-generation distillers. In 2015, by partnering with Luxco, they brought the Yellowstone brand back to the family, just in time to commemorate the brand's 105th anniversary. As one of the founding members of the Kentucky Craft Bourbon Trail, Limestone Branch Distillery is located in Lebanon, Ky., in the heart of bourbon country. The distillery is well-known for its handcrafted products, including Yellowstone Limited Edition Kentucky Straight Bourbon, Yellowstone Select Kentucky Straight Bourbon and Minor Case Straight Rye Whiskey.
For more information on Limestone Branch Distillery and Yellowstone, please visit www.limestonebranch.com, www.yellowstonebourbon.com or www.facebook.com/limestone-branch-distillery.
For more information, please contact:
Pia Reinhold at preinhold@commongroundpr.com