Limestone Branch Distillery™ Makes Significant Investments and Improvements
July 14, 2021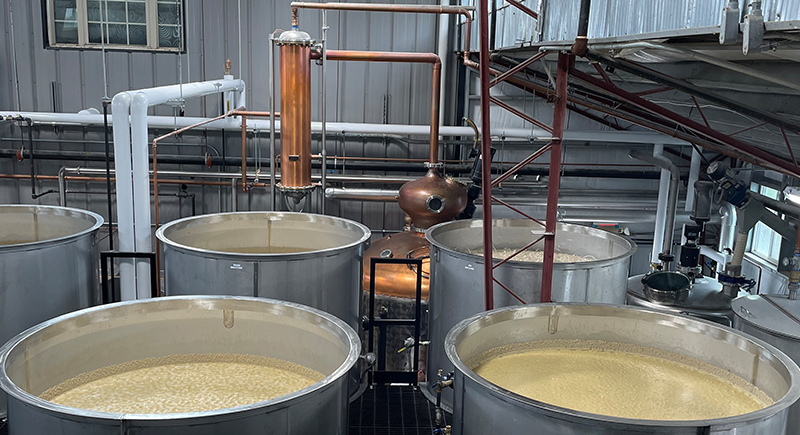 Limestone Branch Distillery™ had a tremendous year in 2020, and there are no signs of slowing down in 2021! Sales for the Yellowstone® brand family grew 158% in 2020 over the previous year, Minor Case Straight Rye Whiskey grew a respectable 16%, since 2019, and after debuting in 2020, Bowling & Burch reached 4,000 cases in 2020 and continues to grow. And while activity is bustling on the operations side, Limestone Branch Distillery also is experiencing record-breaking visitation and retail sales.
Amid all this activity, the Limestone Branch team has been busy making a host of facility improvements. These updates include back-of-house and visitor-area enhancements.
To increase production capacity, Limestone Branch Distillery installed a new cooker and a 1,000-gallon pot still, both created by Vendome, a local Louisville company known for making state-of-the-art stills.
Added two new wine tanks and six new fermenters.
Grain-delivery systems were improved, and piping for water and steam was replaced.
To enhance the production of Bowling & Burch Gin, staff installed a new, 66-gallon gin still made by Frilli, a renowned, century-old Italian company.
The existing Trident Pot Still has been repurposed as a finishing still.
The operational results of such an investment are impressive.
The distillery now can cook 3,000 gallons of mash per day – a 280% increase over its previous capacity. In terms of output, this translates into the ability to produce seven barrels per day or 200 per month, up from one-to-two barrels per day.
This investment also included improvements to the visitor experience. To make room for the new equipment, Limestone Branch staff moved the bottling line to the warehouse. This allowed room for the creation of a new catwalk to give visitors a great view of the back of the house.
The hospitality area, nicknamed "Minor's Lounge" by Limestone Branch Master Distiller Stephen Beam, is also undergoing improvements to increase efficiencies for the bar staff and to enhance the cocktail experience for guests. The bar is receiving a refresh to complement the existing wood-stave look. Other additions include new shelving, antique mirrors, more lighting and updated seating. Most of the improvements are taking place behind the bar, with the addition of a new workstation, drink wells, sinks, dishwasher, and speed rail to increase efficiency.
Outside, planting continues in Limestone Branch Distillery's gin garden. This summer guests are likely to find mulberry, blackberry, honeysuckle and black cherry – all grown and hand-picked for use in Bowling & Burch Gin.
"We're excited about the changes and improvements we've made," said Beam. "We are eager to show off our new facilities, and we can't wait to provide guests with an even greater experience than before."