Limestone Branch Distillery™ Reveals New Packaging, Whiskeys Earn Industry Accolades
July 10, 2019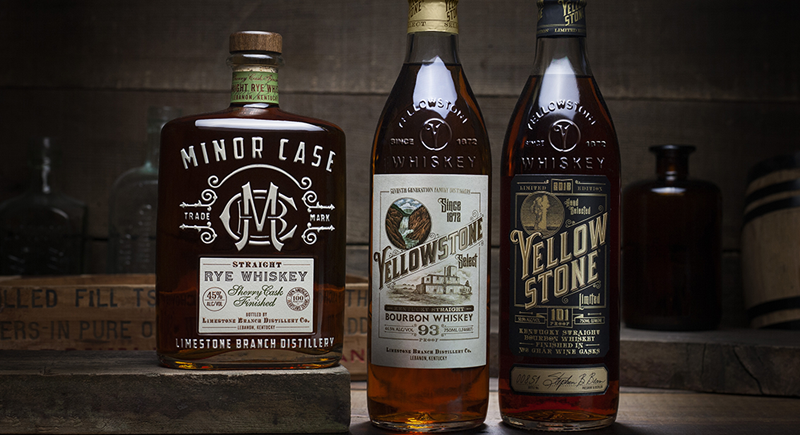 Limestone Branch Distillery™ (LBD) has introduced a new label and brand refresh for Yellowstone® Select Kentucky Straight Bourbon Whiskey, as well as a new bottle design for Minor Case Straight Rye Whiskey.
The new Yellowstone® Select label, designed by David Cole, features the ornate gold lettering from the previous label, but on a brighter, cream-colored background, making the label easier to read in a retail environment – both on the shelf and behind the bar. Adding to the vibrancy of the design is an enhanced, colorful depiction of the classic waterfall at Yellowstone National Park. "Limestone Branch Distillery Co." was also added to the front of the bottle to make a stronger connection between the brand and the distillery.
The new Minor Case bottle features white paint over the embossed "MC" logo, making the intricate font and design more prominent and adding to the vintage and craft look of the bottle. "The new look is reminiscent of the porcelain painted 'bar back' bottles that were popular with so many brands in the late 1800s," says Steve Beam, President and Head Distiller at Limestone Branch Distillery. "This was the time when my great-grandfather, Minor Case Beam, was in his distilling heyday – this new look is a nod to his legacy."
In addition, LBD's whiskeys have recently earned incredible industry accolades.
The award-winning Minor Case Straight Rye Whiskey was given a score of 94 points in this spring's Tasting Panel magazine. The magazine notes "the fragrant nose of jasmine and caramel is illuminating … luscious notes of sweet pea and honeyed apples, peppercorns and peach blossoms are elegant, while its perfume carries through to the maple and dried-peach finish."
Also, Yellowstone Limited Edition 2018 was the only bourbon in its category to be awarded the respected Gold medal at the 6th annual Berlin International Spirits Competition (BISC). The BISC, one of the 12 International Beverage Competitions, was held on March 3, 2019 at the Kempinski Hotel in the heart of Berlin and featured over 300 spirits submitted from over 19 countries this year. The BISC is a unique competition that features trade-only judges who decide by category and actual price, which allows for a more leveled judging field.
Congratulations to Limestone Branch Distillery on an already exciting year!