Limestone Branch Distillery™ Updates
October 2, 2019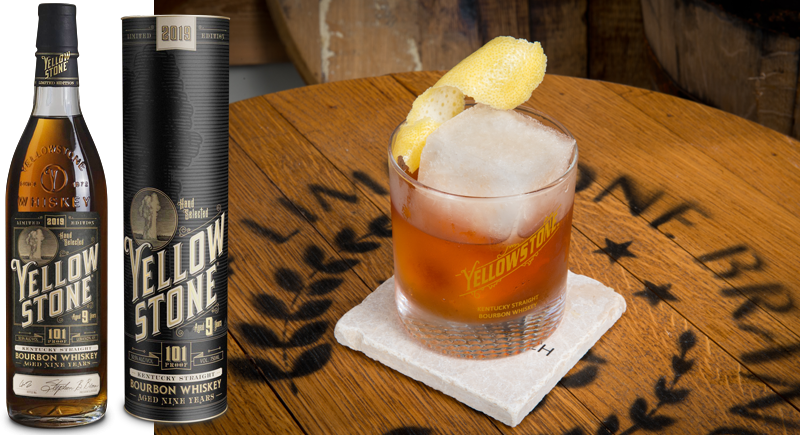 Yellowstone® Limited Edition 2019 Now Available
In August, Limestone Branch Distillery™ introduced the 2019 variant of Yellowstone® Limited Edition Kentucky Straight Bourbon. This year's edition
includes a hand-picked selection of the most unique barrels – those hidden gems in the rickhouse – including barrels of extra-aged nine-year and 12-year Kentucky Straight Bourbon Whiskey.
"Each barrel's unique location in the rickhouse contributed to the taste profile and complexity of this bourbon," said Steve Beam, Head Distiller at
Limestone Branch Distillery. Yellowstone Limited Edition 2019 brings cinnamon notes with toffee, dried fruit and a hint of citrus to the palate, followed by a dry finish of brown sugar and oak. Using Beam's expertise and honed palate, only the finest barrels were chosen for this year's release.
Bottled at 101 proof and available in 750mL bottles nestled in commemorative tubes, the 2019 Yellowstone Limited Edition continues to honor the brand's long-standing tradition as a Kentucky favorite.
Special Edition Yellowstone® Bottles Raise Funds in Support of NBA2LOU
Limestone Branch Distillery™ partnered with NBA2LOU on its efforts to bring the National Basketball Association to Louisville. On June 29, 2019, only 200 bottles of special edition NBA2LOU Yellowstone® Kentucky Straight Bourbon were available for purchase at a Liquor Barn in Louisville. Bottles were sold for $149.99 as a fundraiser in support of NBA2LOU.
The special edition Yellowstone Kentucky Straight Bourbon is a unique single-barrel pick – a four-year bourbon finished in #3 char barrels – coordinated by Head Distiller Steve Beam.
NBA legends, such as Dan Issel, Mike Pratt and Louie Dampier, attended the fundraiser event in support of the organization. Steve Beam was also on-site to talk to attendees about the bourbon and sign their limited edition bottles.
LBD and NPCA Host National Cocktail Contest
As part of its partnership with the National Parks Conservation Association (NPCA) to encourage consumers to help preserve and protect national parks, Limestone Branch DistilleryTM hosted a national cocktail contest in celebration of the NPCA's 100th year of national park advocacy.
Through May, NPCA and Limestone Branch Distillery invited consumers to submit a national park-themed cocktail recipe using Yellowstone® Select Kentucky Straight Bourbon – which is named after Yellowstone National Park. The chosen recipe, "Yellowstone, Yellowstone," will be featured for the
remainder of 2019 as NPCA's official Centennial Celebration Cocktail. The recipe was created and submitted by Dennis W. from Thousand Oaks, California, and was selected as the winner by Steve Beam.
Additionally, from May 1, 2019 to August 31, 2019, Limestone Branch Distillery donated $1 to NPCA for each bottle of Yellowstone Select sold to help support NPCA's work across the country.