Limitations Just a Perspective of the Mind
December 27, 2013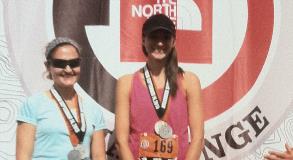 As Luxco has redefined our Mission and Values, we realize that everything we have done and everything we will do requires us to work hard, think outside the box, and continuously challenge our perceived limitations. Building a company for the future and creating powerful brands requires us to push ourselves beyond our comfort zone.
Molly Culver, Marketing Assistant for Dark Spirits, recently competed in not ONE, but TWO ultra-marathons! Her experience greatly reflects what Luxco is doing as a company. Following is an introspective look at Molly's experience:
---
"Why would you ever run fifty miles?" My response every time is the same – "Why not!?"
This year, I was asked if I would run in The North Face Endurance Challenge Series 50-mile race. Even though it was just one month away, and my first ultra marathon ever, I didn't hesitate to say yes. I saw it as a challenge, something to strive for that was above and beyond anything I have ever done. Honestly, my only goal was to finish. Seven hours and fifty minutes later, I finished my first 50 mile race as the first female finisher overall! To say I reached my goal is an understatement, and I'm still beside myself to this day!
A month after my win in Wisconsin, I received an email from The North Face Endurance Challenge Series inviting me to run as an "elite" runner in the Championship race in San Francisco on December 7th.
Obviously, I didn't think twice. The North Face Endurance Challenge 50-mile Championships in San Francisco is the most competitive 50-mile race on American soil. It is one of the highest profile races for 2013 for elite ultra runners, and was just my second race ever. Between the elevation changes, trail terrain, and elite competition, this race was extremely more difficult than Wisconsin, yet one of the most amazing challenges I've ever encountered.
When I am asked, "What does it take?" I don't think there is an answer to that question. I'm in my element when I'm running; once you find that "element" or aspect of yourself the possibilities are endless. Limitations are just a perspective of mind.
— Molly Culver
---
Congratulations, Molly, on your amazing achievement! We are all incredibly proud of you and look forward to using your drive and success as motivation to move Luxco forward!