LORD CALVERT® AND DUCKS UNLIMITED® FORM PARTNERSHIP
October 7, 2016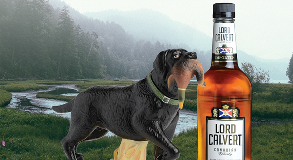 Ducks Unlimited®, the world's leader in wetlands and waterfowl conservation, joins Lord Calvert® Canadian Whisky in a newly announced partnership that celebrates both brands' shared passion for the outdoors as well as their strong Canadian heritage.
To kick off this partnership, Lord Calvert will be releasing a limited edition Ducks Unlimited decanter, available nationwide in October. Each 750mL decanter is hand-painted, hand-labeled, and hand-filled with smooth and flavorful Lord Calvert Canadian Whisky. In addition, the custom packaging highlights the mission of Ducks Unlimited, which recently celebrated its 50th anniversary, and the partnership synergies. This stunning decanter will also have a charitable component, as a portion of the proceeds will be donated to the preservation of waterfowl and wetland habitats in North America.
Only 4,500 cases of the decanter will be available in 2016, at a retail price of $99.99 each. As part of the partnership, a new decanter will be available for consumers to collect each year and celebrate the great outdoors. To learn more, visit www.lordcalvert.com.