LORD CALVERT – OLD BOTTLE, NEW PACKAGE
July 2, 2014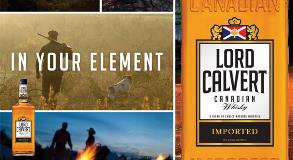 Ask any baby-boomer, Canadian Whisky consumer if they remember Canadian Lord Calvert and many will conjure an image in their head of the classic square Lord Calvert bottle, embellished with several embossed cartouches of the words "Canadian" and "Imported". Others will have memories of many popular ad-campaigns like, "Men of Distinction" which featured famous aristocratic gentlemen sipping their favorite Lord Calvert Canadian Whisky while dressed in three-piece suits or tuxedos. Others may recall the popular (and extra-large) prints of former NBA Basketball Star, Wilt "The Stilt" Chamberlain with his Lord Calvert "Up Where You Belong" slogan featured in many bar posters and mirrors. Still others will remember the most recent "Lord of the Canadians" ad campaign which featured snow skiers, jet skiers, hikers, and white water kayakers. They were all conquering their favorite outdoor sports activity in the shadow of a giant Lord Calvert Whisky bottle that loomed in the distance somewhat resembling the Canadian Rocky Mountains.
"There is no doubt that this brand has an incredibly compelling history!", noted Brian Labuda, Senior Brand Manager – Dark Spirits for Luxco. In fact, 2014 marks the 50th anniversary of Lord Calvert being crafted as a true 100% Canadian Whisky. "This is the reason that we felt it was the perfect time to bring back the beloved 'square' bottle! It not only commemorates the 50th anniversary – but it does so by rejuvenating the nostalgic pride the brand once enjoyed; and we would like nothing more than to return it to its rightful place as 'Lord of the Canadians'!"
Lord Calvert Canadian Whisky will remain as incredibly smooth and delicious as always, but will be returned to its rightful "home" in the classic square bottle starting in July 2014. Along with the bottle change (1L and 750mL glass bottles only at this time) the brand will be given a new face-lift that tips its hat to the classic Lord Calvert label as well. Clean, polished and contemporized, it's sure to be noticed on the shelf and back bars across the country. The new label design will flow-through all bottle sizes through the remaining of 2014 and will be supported by new POS and merchandise as well.
Happy 50th anniversary, Lord Calvert! Not since the 80's has the phrase "it's hip
to be square" been so apropos!