Lord Calvert's Golden Jubilee
December 30, 2013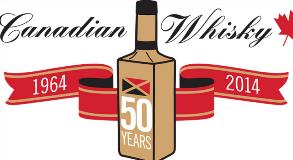 The year 2014 will mark the 50th Anniversary of Lord Calvert Canadian Whisky being a true 100% Canadian Whisky. What may sound odd at first, for a brand that's legacy dates back to 1890, makes more sense when you understand the full history of the brand.
In the 1930's, Seagram's acquired the Calvert Maryland Distilling (CMD) company (originally founded in 1890 and named after Lord Cecil Calvert, the man who founded the Maryland Colony in 1632). Seagram's began blending CMD's un-aged American whiskey with their own popular oak-barrel aged Canadian Whisky to create a more pleasing and universally acceptable flavor profile, smoother finish and more pleasing nose and tastier palate. Over the next 30 years, the formula and flavor mix was changed to meet the demands of an ever-increasing (and finicky) whiskey consuming American population.
But in 1964, Seagram's declared that they would no longer offer Lord Calvert as a blend, but would instead create a true imported 100% Canadian Whisky, and the brand never looked back.
Now, fifty years later, Lord Calvert celebrates its Golden Anniversary with a nod to the past and a keen eye on the future! In a time when everything "retro" is cool again, Lord Calvert is going back to roots with its signature, proprietary square bottle! Luxco is proud to reintroduce the square bottle (in 1.0L and 750mL sizes only) to a new generation of consumers.
"It's part of the brand's proud character and heritage," states Brian Labuda, Lord Calvert's Brand Manager. "There is no way you can mistake that bottle for anything else — in its heyday, it was instantly recognized on billboards, print ads, POS and most importantly on shelf! To sum it up … it was iconic! And it deserves to be again!"
The 50 Year Canadian Anniversary celebration kicks off this summer with special Lord Calvert 50th Anniversary logoed apparel, on- and off-premise POS items, an online sweepstakes via the brand's Facebook page, new rebates and some industry publication print ads to help spread the word!
Happy Anniversary, Lord Calvert Canadian! Here's to another 50 successful years!