LUX ROW DISTILLERS INSTALLS CUSTOM COPPER STILL
March 2, 2017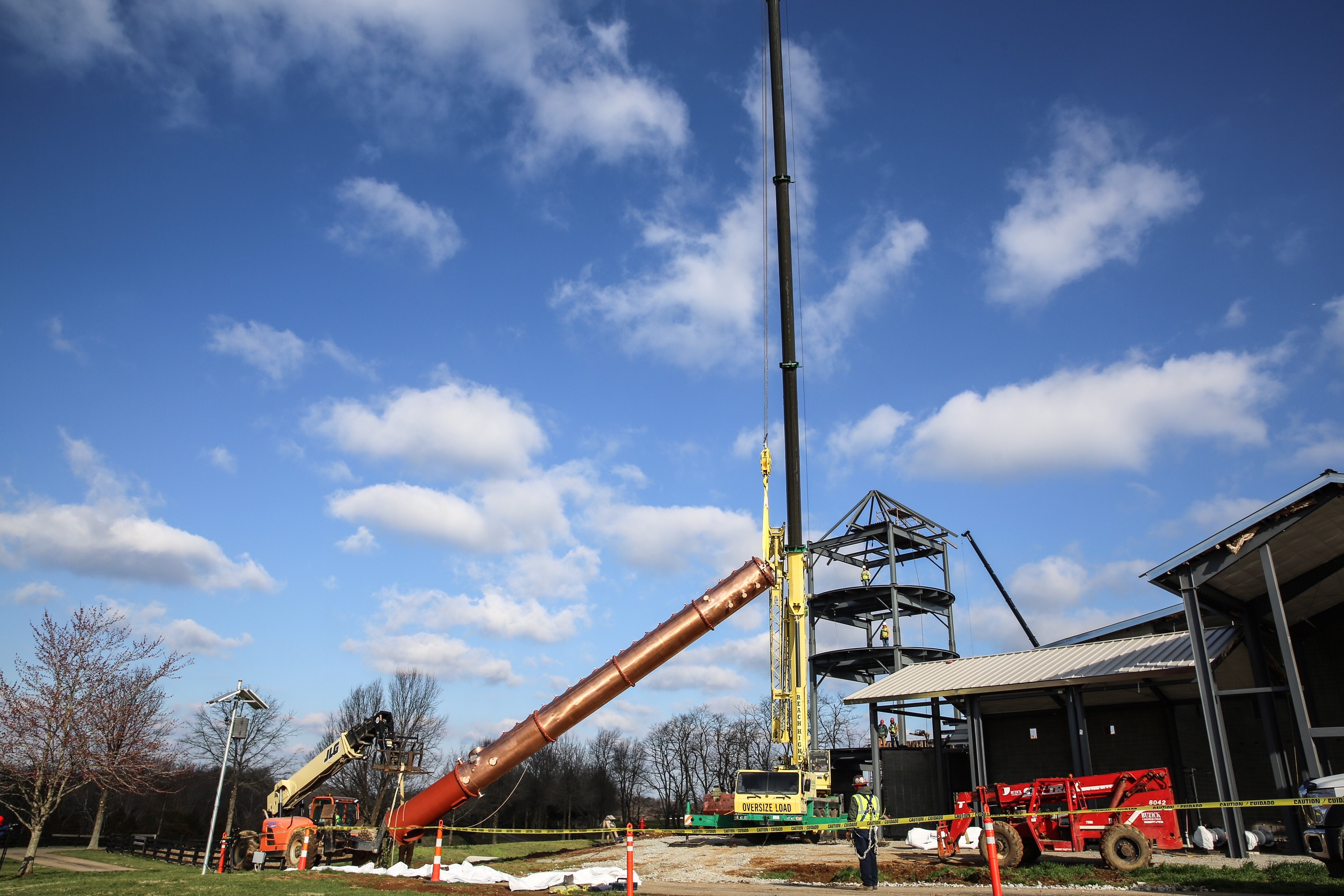 Lux Row Distillers Installs Custom Copper Still
Construction continues on Bardstown distillery
(St. Louis) March 2, 2017 – Progress is being made at Lux Row Distillers construction site – and today a major milestone has been achieved – the distillery's all copper column still from Vendome Brass and Copper Works has been installed. With its base, the still stands at 43 feet and weighs 6,293 pounds, with a 36-inch diameter.
"This is a momentous day for us at Lux Row Distillers," says Donn Lux. "The still is the heartbeat of a distillery and we have carefully chosen the perfect still for Lux Row. We are looking forward to putting this still to good use soon, making some fine bourbon."
The still has 19 total distillation plates and can accept mash from the fermenters at 45 gallons per minute and can produce six gallons per minute of new distillate. In the start-up configuration, the still's capacity will be 1.7 million proof gallons per year, with the ability of reaching 7 million proof gallons per year.
"We hand-selected this still, thinking of not only our immediate production needs, but our future growth in production capacity", says Tony Kamer, Lux Row Distillers operations manager.
In addition to the still installation, much progress has been made on the facility, being constructed by Buzick Construction in Bardstown. Spirit tanks have been installed and the distillery warehouse is rapidly taking shape. Scheduled to be completed this spring, the six-story 18,000 square foot warehouse is where Lux Row's featured whiskeys will call home, holding 20,000 barrels of distilled Blood Oath, Rebel Yell, David Nicholson and Ezra Brooks varieties. The warehouse will also feature a four-barrel lift on the north side of the building that will make it easier to transport barrels.
Lux Row Distillers is expected to begin operations in late 2017 and open to the public in the spring of 2018. Construction broke ground on May 2, 2016, on the Nelson County 70-acre property off state highway KY-245, in the heart of the Bourbon Capital of the World. When completed, the distillery building will be approximately 18,000 square feet; and the overall site will include six barrel warehouses, a tasting room, and event space, in addition to offering visitors a new stop on the Kentucky Bourbon Trail.
ABOUT LUX ROW DISTILLERS
Real roots, real family, real products: Lux Row Distillers – a new bourbon distillery experience coming to the Kentucky Bourbon Trail in 2018 – is a family-owned venture, bringing the Lux family history and spirits tradition to the bourbon industry. Lux Row Distillers will be the home of Luxco's bourbon brands, including Rebel Yell, Blood Oath, David Nicholson and Ezra Brooks Kentucky Straight Bourbons.
Located in the heart of Bardstown, Kentucky, the 18,000-square foot Lux Row Distillers will include a visitor center, six barrel warehouses, a tasting room, and event space, making for an all-encompassing bourbon experience. The 70-acre property is home to an 18th century stone house – which will remain and is registered as a National Historic Place – and a long, tree-lined driveway that will provide a scenic entrance to the future distillery.
For more information about the distillery, visit www.luxrowdistillers.com. You can also like Lux Row Distillers on Facebook at www.facebook.com/luxrowdistillers or follow the distillery on Instagram @luxrowdistillers.
For more information, please contact: Pia Reinhold preinhold@commongroundpr.com or Maggie Hallam mhallam@commongroundpr.com