Lux Row Distillers™ & Limestone Branch Distillery™ Introduce New Barrel Programs
April 1, 2020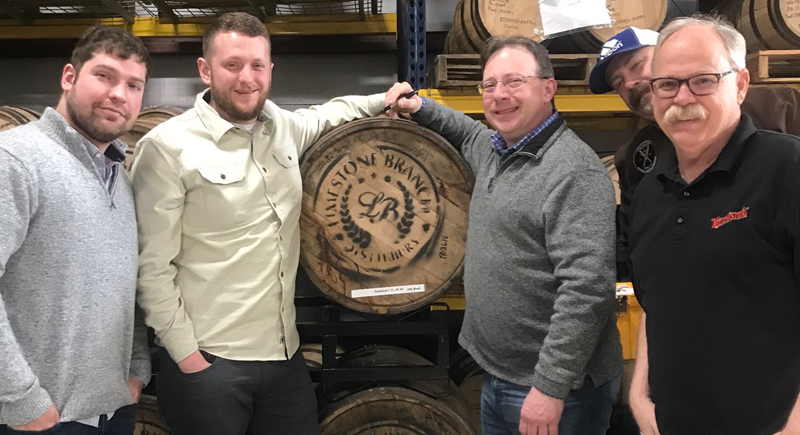 2020 brings the launch of new barrel programs at both Lux Row Distillers™ and Limestone Branch Distillery™, each offering key accounts a chance to hand-pick their favorite barrels for bottling.
To participate in the Lux Row Distillers Barrel Program, accounts are required to visit the Distillery in Bardstown, KY. Upon visiting, the customer will take a VIP tour of the distillery with Head Distiller John Rempe, followed by a personalized tasting session in the newly renovated historic house on the Lux Row® property. During the tasting session, Rempe will lead the customer through tasting several barrels of bourbon, after which the account will choose which barrel(s) they would like to purchase. Selected barrels will be shipped to St. Louis for bottling during four quarterly bottling windows.
Customers can choose from two Lux Row brands: Ezra Brooks® Distiller's Collection – ryed Kentucky Straight Bourbon Whiskey bottled at 107 proof or Rebel Distiller's Collection – wheated Kentucky Straight Bourbon Whiskey bottled at an optimal 113 proof.
Similarly, the Yellowstone® Hand Picked Barrel Program is a customizable, exclusive barrel program in which accounts are required to visit Limestone Branch Distillery for a special tour with Whiskey Ambassador Stephen Fante or Head Distiller Steve Beam. After the VIP tour experience, customers will taste several different barrels at different proofs, then choose their favorite barrel and at which proof they'd like the barrel to be bottled. Following their selection, customers will receive their custom bottle of Yellowstone, featuring a newly developed, high-end label.
Accounts interested in participating in either Distillery's program should express interest to their Luxco® Sales Account Representative so the proper request forms can be submitted on the account's behalf.