Lux Row Distillers News
December 26, 2016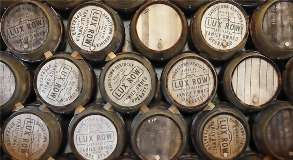 Construction at Lux Row Distillers is full speed ahead! The grading of the area is complete, as are the foundations and footings on which the building will eventually sit. All of the underground utilities are in place as well as the electrical framework, and the gravel base for roads and parking lots have also been finished. In the coming weeks, the steel work will be finalized, creating the main framework of beams and columns for the building.
We have received a lot of positive feedback from the Bardstown community after we revealed the distillery's name at an event in September. We are excited to have a greater presence in the Bourbon Capital of the World!
Don't forget – you can check out the construction through the live camera feed on www.luxrowdistillers.com to see how Lux Row Distillers is coming along at any given time.
"We had some wet weather this summer, but since then, we have made some great progress with the construction of the distillery. We are hoping to get the roof on the building by the end of winter."
– Tony Kamer, Lux Row Distillers Project Manager