LUX ROW DISTILLERS™ OPENS ON THE KENTUCKY BOURBON TRAIL
July 23, 2018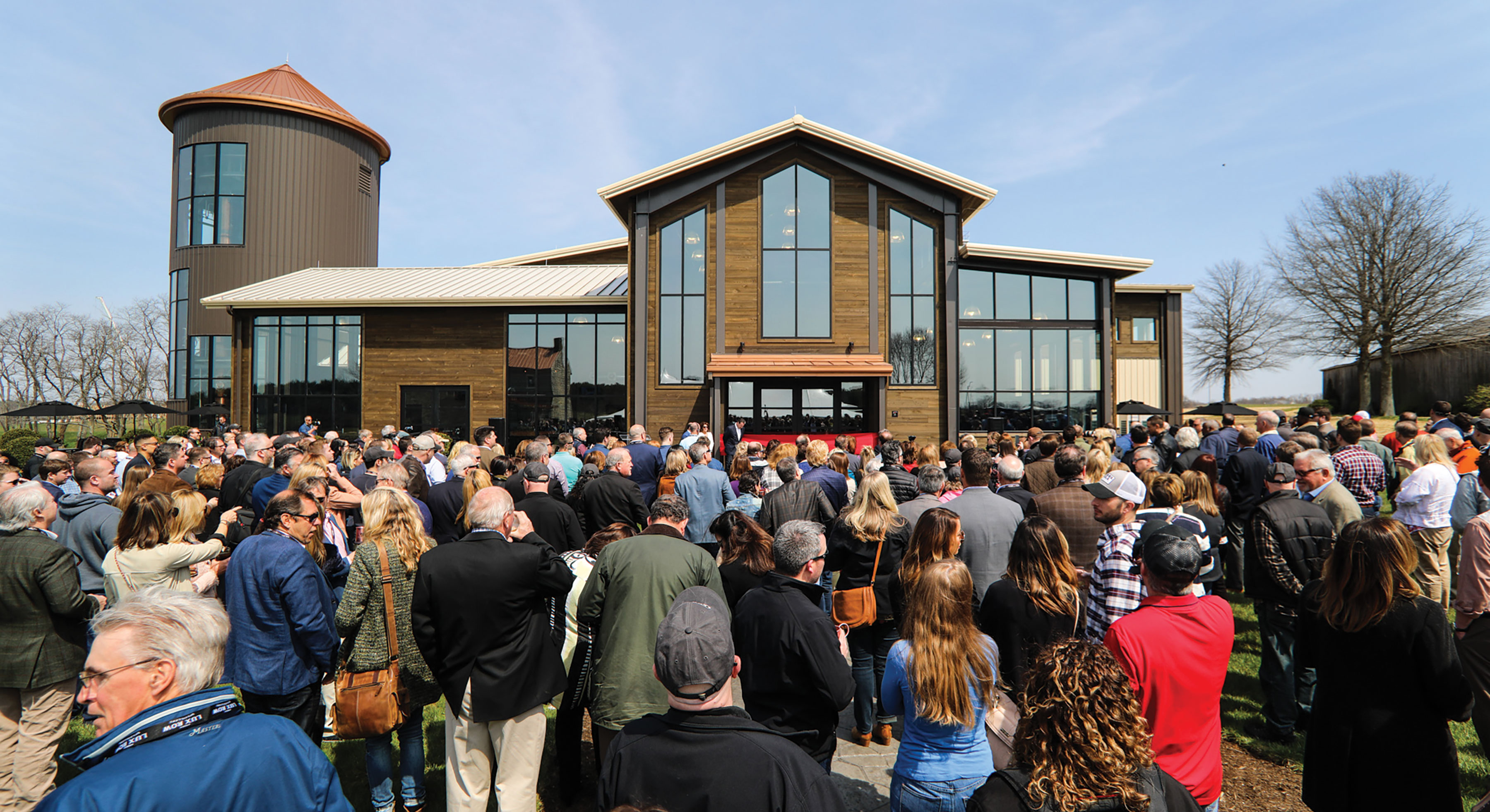 The sun was shining in Bardstown on April 11th when Lux Row Distillers™ hosted more than 500 guests for its grand opening celebration. Nearly two years after breaking ground, the distillery opened its doors to the public in a grand opening celebration.
Employees from St. Louis, Cleveland, and the Luxco® sales team, along with local supporters and the mayor of Bardstown were together on this special day to celebrate a momentous occasion.
The 90-acre property shone brightly as guests gathered to enjoy the Kentucky United Pipes and Drums kick off the celebration, followed by the raising of the Lux Row flag and speeches by Donn Lux, Michele Lux, Mayor Dick Heaton and David Bratcher. The excitement was palpable as the ribbon was cut and guests were invited inside to tour the distillery and enjoy the retail space.
"The grand opening of Lux Row Distillers™ marks a momentous occasion in the evolution of Luxco. It gives me great pride to embark on this new chapter of distilling our own whiskey for our award-winning brands, and to do it accompanied by not only my family but our Luxco family who helped make this possible, is even more special," says Donn Lux.
Guests enjoyed a full day of food, drinks, and music as the mild weather made for the perfect day to enjoy the festivities.
The distillery began bourbon production in January of this year and has filled more than 2,500 barrels of Kentucky's finest bourbon. Head Distiller John Rempe says, "With the opening of Lux Row Distillers, the future of our bourbon brands is in our hands – and it's an incredible feeling. I am eager to continue the tradition of our long-standing brands, as well as flexing our creativity with new flavor profiles – continuing to provide our customers with the best bourbon in the world."
Lux Row Distillers also recently joined the Kentucky Distillers' Association as a "Heritage" member, the highest level in the non-profit group that unites and leads the state's signature bourbon and distilled spirits industry.
The journey to grand opening day began in May 2016 when plans were announced to build the distillery and the team broke ground on construction. That September, the distillery name was announced as Lux Row Distillers. And in March 2017, the distillery's impressive 36-inch Vendome all-copper still was installed.
The distillery's new address is 1 Lux Row. Lux Row Distillers is now open Wednesday through Saturday, 9:30 a.m. to 4:00 p.m., and Sunday from 12:30 p.m. to 4:00 p.m. Tours, offered at the top of every hour, are $12 and include a 45-minute walking tour of the site and an educational tasting seminar in the distillery's Tasting Room, where guests enjoy Lux Row Distillers' award-winning bourbons and learn about their storied history. A retail shopping experience featuring the bourbon brands and other branded merchandise is available in the visitor center. To book a tour, call 502-337-7420 or visit luxrowdistillers.com.
Now with thousands of barrels resting comfortably in the 20,000-square-foot barrel warehouse, the distillery is ready to welcome visitors and continue making bourbon for years to come. Here's to thousands more barrels of whiskey being filled!
Let's go Luxco, and let's go Lux Row!
TOUR GUIDE SPOTLIGHT
When visiting Lux Row Distillers™ you will surely come across the wonderful team that makes every visitor experience special. Meet Vincent, Michael, Kelsey and Landon.
Vincent Clark – Lead Ambassador
Vincent is responsible for managing the Ambassador team, working with private and VIP tours, scheduling group visits and ensuring a positive experience for all visitors to the distillery. A typical day for him involves greeting guests, leading tours and educating guests about the distillery's bourbon brands and what makes Lux Row unique.
Originally from Indianapolis, Vincent earned his MBA from Campbellsville University and his Bachelor's degree from Bellarmine University in Louisville – where his love of Kentucky started.
"What attracted me to Lux Row Distillers™ was the smaller, family-owned feel of the distillery – everyone's work makes a difference here," he says.
His favorite part of his job is not sitting at a desk all day and that every day is a new adventure.
Favorite cocktail:
Old Fashioned made with chocolate bitters
Michael Cooley – Retail Manager
Michael manages the retail space for the distillery – ordering items, stocking shelves, and monitoring inventory to ensure the distillery has the best items possible. When not running the retail space, she also gives tours and leads tastings for visitors.
"My favorite part of distillery life is the community lifestyle and the great friendships made here. We really are a cohesive team," says Michael. "It's exciting to be a part of the newest distillery on the Kentucky Bourbon Trail and I am so happy to be a part of the Lux Row family."
A native of Louisville, Michael received her Bachelor's degree from Northern Kentucky University and has previous experience in both the bourbon and retail industries.
Favorite cocktail:
Kentucky Mule
Kelsey Lyon – Tour Ambassador
Kelsey spends her days giving tours of the distillery, educating guests, and leading tastings of the award-winning brands at Lux Row Distillers. She enjoys the diversity that every day brings and the chance to spend time with the visitors, learning about new things every day.
"Growing up in a small town with the nickname of The Bourbon Capital of the World, I automatically had an interest in the bourbon industry," says Kelsey. "Once I met the Lux family and the folks at Lux
Row and learned about their culture, I knew I wanted to be a part of this team. I'm just as excited to be here as each one of our guests."
A native of Bardstown, Kelsey earned her Bachelor's degree from Western Kentucky University and has previously worked at Bardstown Main Street.
Favorite cocktail:
Kentucky Mule
Landon Foster – Tour Ambassador
Landon Foster is responsible for leading tours and offering visitors an educational tasting of the brands – ultimately, making sure every guest has an authentic experience, unlike anything else on the Kentucky Bourbon Trail.
"While my tasks remain the same daily, every day we meet new and interesting people. Whether they be from down the street or across the globe, it is fascinating to meet our visitors and share our passion with them," says Landon.
Originally from Bardstown, he received his Bachelor's degree from the University of Louisville and previously worked for the Bardstown Tourist Commission and a non-profit organization. While new to the bourbon industry, Landon enjoys the network of like-minded people and the family feel among his colleagues at the distillery.
Favorite cocktail:
Old Fashioned