Lux Row Distillers™ Relaunches Daviess County® Bourbon
April 1, 2020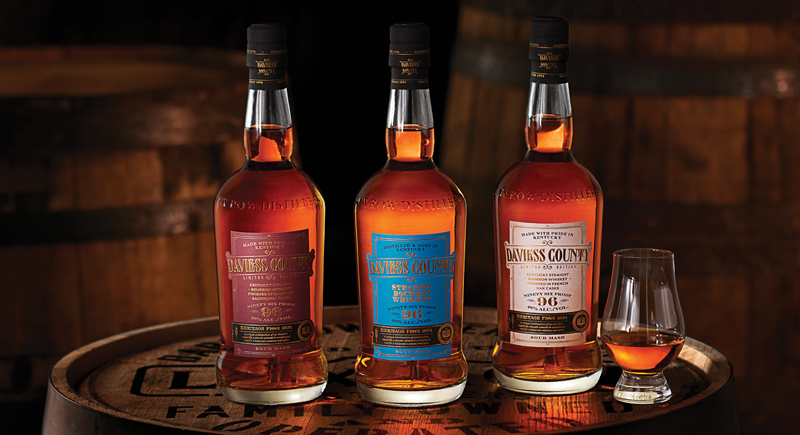 Daviess County, Kentucky, (pronounced Davis) is a storied area with rolling hills, flat valleys and a long history of distilled spirits and iconic distilleries that helped the state earn its reputation as the home of great bourbons. One of the first, Daviess County Distilling Company, with heritage dating back to 1874, helped pave the way for the nearly 20 other large distilleries that operated in Daviess County by the early 1900s. Today, only three remain, but the county's significance in bourbon history lives on.
To pay homage to this rich tradition begun by the Daviess County Distilling Company, Lux Row Distillers™ is relaunching Daviess County® Kentucky Straight Bourbon as an ultra-premium line of bourbon featuring three variants. (David Sherman Co. acquired Daviess County Bourbon brand from United Distillers/Heaven Hill in 1993).
This unique bourbon from Lux Row Distillers launched in February and consists of a mixed mash bill of both wheated and ryed bourbons. The three variants in this line are Daviess County Kentucky Straight Bourbon, Daviess County Kentucky Straight Bourbon – Cabernet Sauvignon Finish, and Daviess County Kentucky Straight Bourbon – French Oak Finish.
"The unique combination of mash bills sets this bourbon apart – the smooth wheated mash bill and the traditional spicy ryed mash bill come together for a balanced taste profile," says Head Distiller John Rempe.
All three variants are 96 proof. The Cabernet Sauvignon Finish has been rested for six months in cabernet sauvignon barrels from Napa Valley California for an additional layer of complexity, while the French Oak Finish has been rested in French oak barrels. "The secondary aging in the cabernet sauvignon and French oak barrels also adds a nice extra layer of flavor with slight sweet fruitiness and oaky
caramel undertones," adds Rempe.
The packaging for Daviess County is also unique and attractive, with an embossed bottle shoulder and natural cork, making this bourbon even more appealing!