LUX ROW DISTILLERS™ UPDATE
January 1, 2018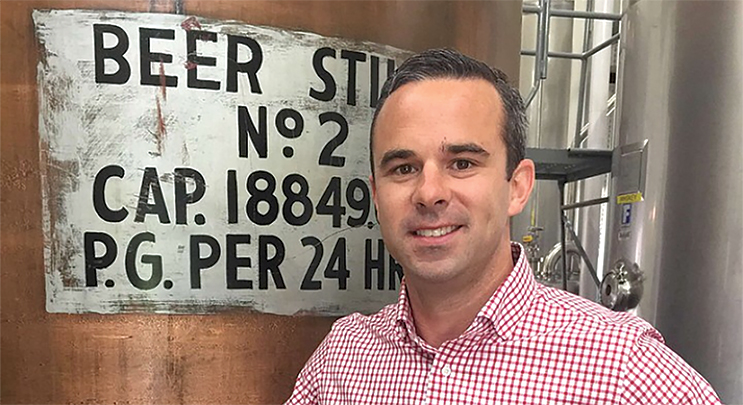 Construction continues to come right along at Lux Row Distillers™, and the distillery is hoping to start producing bourbon by early 2018!
The still tower window locations have all been opened up, and the wood for the roof of the still tower has been finalized. The grain bins are all in place and ready for action, as the grain system is nearly finished. Process piping is close to completion, and programming of the entire distillery operation system is underway.
The front of the house – the tasting room and retail areas – have taken shape as concrete has been poured and the wood ceilings have been installed. The parking lot has been paved and striped, which means we are getting closer to welcoming visitors.
Lux Row Distillers has also been growing its team. Recently, Aaron Harris joined the Lux Row Distillers team as Distillery Supervisor. He will be overseeing the distillation process and managing the team of operators to ensure efficient distilling is happening every day.
Lux Row Distillers is set to open to the public in the spring of 2018, and it just can't come soon enough!
Meet Kevin Didio, Lux Row Distillers Experiential Manager
Kevin Didio has joined Lux Row Distillers as our Experiential Manager. In this role, he will be overseeing the visitor experience at the distillery – including the tours, retail areas, and special events. "The idea of helping to build a world-class distillery experience from the ground up, layered with some fantastic award-winning brands, was something I just could not pass up. I am really excited to see all of the plans come to life," he says.
A Louisville native, Kevin has over ten years of experience in the spirits industry. His professional background includes tourism, trade relations, marketing, and operations. This broad range of experience and passion for Kentucky Bourbon is why Kevin is a great fit to lead Low Row's Distillery Experience.
"My favorite thing about Bardstown is that it is the bourbon capital of the world! I can't think of a better place to be," he says. His preferred bourbon cocktail is a Manhattan with David Nicholson® Reserve, served on the rocks.
When not at the distillery, Kevin enjoys spending time with his family, including his wife Jennifer and daughters, Saylor and Sadie.
Welcome to the family, Kevin!