LUX ROW DISTILLERS UPDATE
April 5, 2017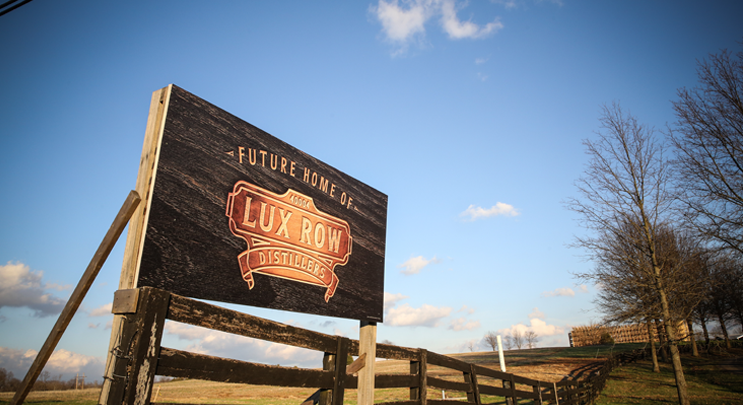 Things are happening at Lux Row Distillers! In late December, the steel beams that will frame and support the distillery were secured, and the masonry for the elevator and still tower were completed. In addition, the masonry for the interior wall is underway as well as the warehouse foundation walls. The underground utilities are complete, bringing power to the future distillery. The spirit tanks have also been installed. Each are 10 foot in diameter, 17 feet six inches tall, and will hold 7,050 gallons of bourbon.
In addition to the exciting progress underway at the main facility—where windows, siding, and roof are complete—the distillery warehouse is rapidly taking shape. Scheduled to be completed early this spring, the six-story 18,000-square foot warehouse is where Lux Row's featured whiskeys will call home, holding 20,000 barrels of distilled Blood Oath, Rebel Yell®, David Nicholson® and Ezra Brooks® varieties, with a 53-gallon capacity in each barrel. All of the ricks in the warehouse have recently been placed, and the warehouse itself will feature a 4-barrel lift on the north side of the building that make it easier to transport barrels.
Most importantly, on March 2nd, the still was installed. The heartbeat of the distillery is now in place! The all copper column still from Vendome Brass and Copper Works is a beauty. With its base, the still stands at 43 feet and weighs in at 6,293 lbs. Our still has 19 total distillation plates and can accept mash from the fermenters at 45 gallons per minute. After the process of adding steam, the still will produce six gallons per minute of new distillate. This was an exciting day for Lux Row Distillers, as we are one step closer to making some fine bourbon.
Lux Row Distillers is now on social media! Follow the progress on Facebook at facebook.com/luxrowdistillers and on Instagram @luxrowdistillers.