Luxco Adds VEEV Spirits Brands to Portfolio
March 23, 2016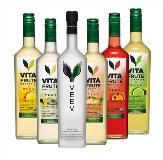 FOR IMMEDIATE RELEASE
Luxco Adds VEEV Spirits Brands to Portfolio
Luxco acquiring all-natural product lineup
(St. Louis) March 22, 2016 – St. Louis-based Luxco announced today an agreement to acquire Los Angeles-based VEEV® Spirits from founders Courtney and Carter Reum. Appealing to today's discerning millennial consumer, VEEV's portfolio includes award-winning brands VEEV Spirit, a 70 proof vodka alternative, and VitaFrute™ Cocktails by VEEV®, the first line of certified organic ready-to-drink cocktails. The terms of the deal were not disclosed.
"This is an incredible day for VEEV Spirits," said Courtney Reum, VEEV co-founder. "We started this company with a vision of creating A Better Way To Drink™ and changing the way people think about the alcohol industry, and Donn Lux and his team share our values and will help these brands reach their full potential."
VEEV's innovative products and commitment to environmental initiatives impressed Luxco, who is excited to tout VEEV's all-natural product lineup to more consumers.
"We believe in Carter and Courtney's vision and are thrilled to be adding these brands to our portfolio," said David Bratcher, President and COO of Luxco. "VEEV and VitaFrute's premium quality, progressive positioning and commitment to sustainability resonate with today's millennial drinkers. The brands are a perfect fit for our established portfolio of rapidly-growing products."
VEEV, which was launched in 2007, was honored as an Inc. 500 Fastest Growing Private Companies in America and named one of Beverage Information's Rising Stars. It was also a recipient of the Technomic Fast 50 Award. The company recently unveiled VEEV 2.0 – reformulated from 60 proof to 70 proof and more versatile than ever, VEEV is now positioned as a better alternative to vodka. In 2012, VEEV reinvented the ready-to-drink (RTD) category with VitaFrute Cocktails by VEEV, the first line of certified organic RTD cocktails. Available nationwide, the brand continues to gain momentum with millennial consumers.
For more information about these products, please visit Luxco.com and veevlife.com, or contact Pia Reinhold at preinhold@commongroundpr.com or Maggie Hallam at mhallam@commongroundpr.com.
About Luxco
Luxco, Inc. is a leading producer, importer and marketer of beverage alcohol products. Our mission is to meet the needs and exceed the expectations of our consumers, associates and business partners. Founded in St. Louis in 1958, where it is headquartered, it is owned and operated by the Lux family. Its portfolio of brands include: Juarez Tequila & Triple Sec, Pearl Vodka, Everclear Grain Alcohol, Arrow Cordials, El Mayor Tequila, Ezra Brooks & Rebel Yell Bourbons, Lord Calvert Canadian Whisky, St. Brendan's Irish Cream, Salvador's Cocktails, Yago Sant' gria and other well-recognized brands. For more information about the company, visit www.luxco.com.
About VEEV® Spirits LLC
VEEV® Spirits LLC was founded by brothers Courtney Reum and Carter Reum. What started as a two-man startup in 2007, grew into one of the best-selling independent liquor brands in the U.S. VEEV Spirits was ranked amongst the 250 fastest growing companies and brands in the U.S. by Inc. Magazine (September 2011) and won the Technomic Fast 50 Award in 2013.
Founded on the philosophy of A Better Way to Drink™, the Reums created VEEV Spirit as a better alternative to vodka by using only the best ingredients including the Brazilian açaí berry prickly pear, acerola cherry and other natural ingredients. They also implemented sustainable business practices, a philosophy that VEEV upholds and promotes in everything they do.
VEEV Spirits is an active member of 1% for the Planet®, where 1% of topline sales are donated to environmental initiatives, and is crafted in the only distillery in America that operates on renewable wind powered energy. VEEV is also proud to be The World's First Carbon Neutral Spirit®.
In 2012, VEEV Spirits launched Organic VitaFrute™ Cocktails by VEEV®, the first line of organic ready-to-drink cocktails. At under 125 calories per serving and 15% ALC/VOL (30 proof), VitaFrute Cocktails are made with all-natural ingredients and can enjoyed by simply pouring over ice.
To learn more visit www.veevlife.com. Find a bottle near you by visiting veevlife.com/find. Follow @VEEV on Facebook, Twitter, and Instagram.