Luxco® Brands Earn Top Accolades from 2020 SIP Awards and the Fifty Best
October 8, 2020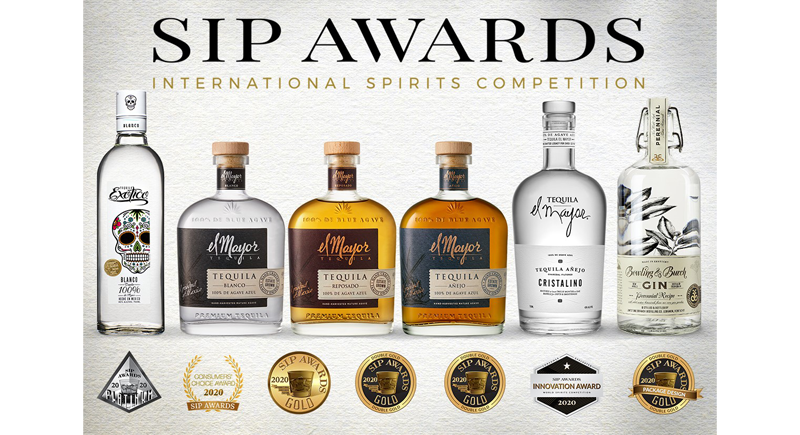 Luxco's tequila portfolio earned high marks at the 12th annual Spirits International Prestige (SIP) Awards competition. El Mayor® and Exotico® Tequila were both honored with Gold or Double Gold Awards. Most notably, El Mayor Cristalino won its first award, taking home the Double Gold medal and the impressive Innovation Award. The Innovation Award applauds spirits with an interesting and unique taste profile that consumer judges deem as innovative and groundbreaking.
In addition, Limestone Branch Distillery's Bowling & Burch Gin continues to receive much praise. Bowling & Burch Gin earned a Double Gold medal at the competition for its elegant bottle design. The SIP Bottle and Packaging Design Awards recognize successfully crafted designs that complement the spirit and appeal to consumers' aesthetic sense. Luxco® received the following awards:
Exotico 100% Agave Tequila:
Blanco: Platinum Award, Consumer Choice Award
El Mayor 100% Agave Tequila:
Blanco: Gold Award, Consumer Choice Award
Reposado: Double Gold Award, Consumer Choice Award
Añejo: Double Gold Award, Consumer Choice Award
Cristalino: Double Gold Award, Innovation Award
Bowling & Burch Gin:
Double Gold Package Design
El Mayor Reposado and Exotico Reposado Tequila also earned themselves a spot on an exclusive list of Top Reposado Tequilas by The Fifty Best. The Fifty Best is well-respected for its original content and unbiased reviews of wines and spirits. Judges score the spirits blindfolded and on a five-point system, awarding them a Double Gold, Gold or Silver medal.
El Mayor Reposado Tequila earned the highest honor, a Double Gold medal, for its "pleasant, perfect and excellent" flavor profile. Exotico Reposado Tequila was honored with a Gold medal for its "creamy and smooth" finish.
One thing is for certain, our spirits are pleasing palates everywhere!