Luxco® Brands Grab Gold at the 2022 San Francisco World Spirits Competition
July 13, 2022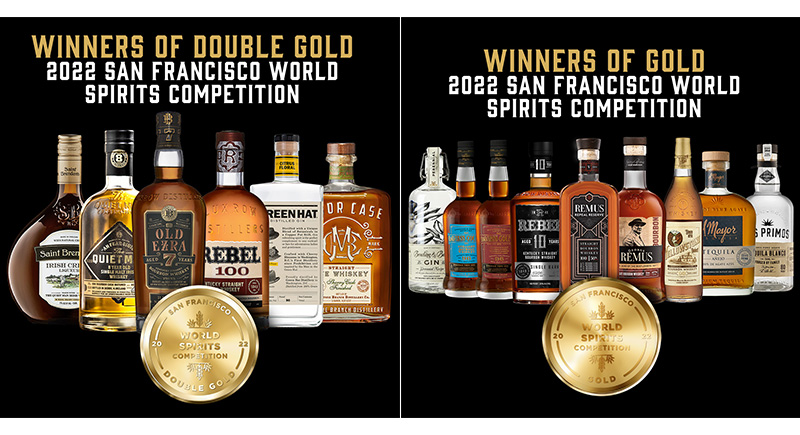 Luxco® brands shared the spotlight at the prestigious 2022 San Francisco World Spirits Competition, winning nine GOLD and six DOUBLE GOLD medals. The winning brands were selected following a rigorous, multi-day judging process by some of the most respected and experienced experts in the spirits industry.
WHAT DOES EACH MEDAL MEAN?
DOUBLE GOLD is awarded to the entries that receive a GOLD medal rating by all judging panel members; these are considered among the finest products in the world.
GOLD denotes exceptional spirits near the pinnacle of achievement; these products set the standard for their categories.
HERE ARE THE AWARD-WINNING SPIRITS:
LUX ROW DISTILLERS™
DOUBLE GOLD MEDAL, Rebel® Kentucky Straight Bourbon 100 Proof
DOUBLE GOLD MEDAL, Ezra Brooks® Old Ezra 7-Year-Old Bourbon
GOLD MEDAL, Rebel 10-Year-Old Single Barrel Bourbon
GOLD MEDAL, Daviess County® Kentucky Straight Bourbon Whiskey
GOLD MEDAL, Daviess County Cabernet Sauvignon Finished Bourbon
NICHE BRANDS
DOUBLE GOLD MEDAL, Saint Brendan's® Irish Cream
DOUBLE GOLD MEDAL, The Quiet Man® 8-Year-Old Single Malt Irish Whiskey
ROSS & SQUIBB DISTILLERY™
GOLD MEDAL, George Remus® Bourbon
GOLD MEDAL, Remus Repeal Reserve® Bourbon Series V
GREEN HAT DISTILLERY™
DOUBLE GOLD MEDAL, Green Hat® Citrus Floral Gin
DESTILADORA GONZÁLEZ LUX
GOLD MEDAL, El Mayor® Añejo Tequila
GOLD MEDAL, Dos Primos® Blanco Tequila
LIMESTONE BRANCH DISTILLERY™
DOUBLE GOLD MEDAL, Minor Case Straight Rye, Sherry Cask Finish
GOLD MEDAL, Yellowstone® Select Bourbon
GOLD MEDAL, Bowling & Burch® New World Gin
Founded in 2000, the San Francisco World Spirits Competition is the oldest and largest competition of its kind and has become the industry standard for rating exceptional spirits. For more information on the competition, the judging panel, and winning selections, visit SFspiritscomp.com.