Luxco® Brands Utilize Displays to Grab Attention at Retail
January 5, 2022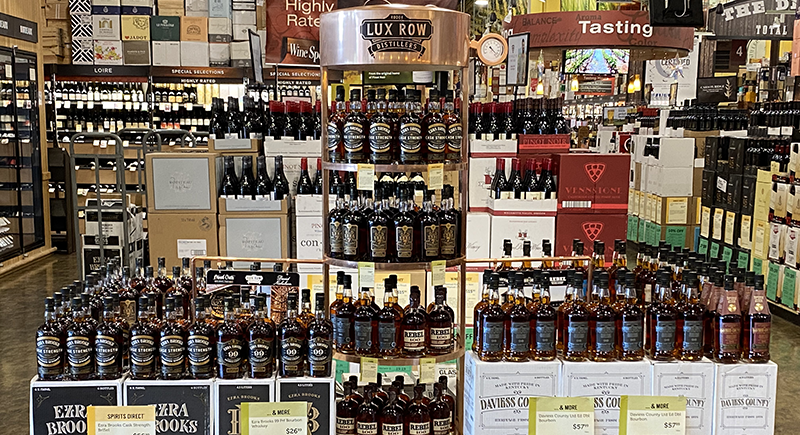 Following are examples of what some of the Luxco® sales and brand teams are doing to grab attention at retail.
Lux Row Distillers™ in Florida
Total Wine & More customers in Florida couldn't help but notice standalone towers designed to look like the iconic still at Lux Row Distillers and featuring 11 different Lux Row Distillers brands.
Starting in September, the massive display – featuring all four Daviess County® variants (including the new Daviess County Double Barrel), Rebel® 100, Ezra Brooks® 99; Old Ezra 7, David Nicholson® 1843 and Reserve, and Ezra Brooks Cask Strength (barrel pick), among others – were set up in Total Wine & More stores in 15 of the 31 Florida stores thanks to our partners at Republic National Distributing Company (RNDC).
These displays were supported by programs that included distributor incentives, in-store tastings, and other promotional activities.
Yellowstone® in Michigan
Recognizing the state of Michigan as a top-performing market in terms of sales volume and growth, the Yellowstone brand team created an impactful display for the grand opening of Total Wine & More stores in Michigan.
Starting in November, large, outdoors-themed displays were installed featuring fire pits, Adirondack chairs, and mountain scenery reminiscent of the areas surrounding Yellowstone National Park – along with plenty of Yellowstone Bourbon.
The launch of the display complemented the overall brand plan, as it coincided with the newest national TV campaign airing during the season four premiere of Paramount's hit series, Yellowstone.