Luxco Giving Back Pedal The Cause
December 28, 2015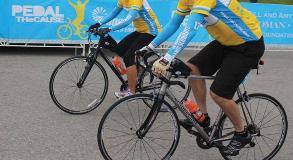 By Donn Lux
This past October, Luxco teamed up with Pedal the Cause (PTC) to participate in the annual PTC bike ride benefiting the Siteman Cancer Center and St. Louis Children's Hospital. PTC was founded by my friends, Bill & Amy Komen, after Bill fought and beat lymphoma not once, but twice.
With the motto of "A World Without Cancer", the Komens' idea was to have a bike ride where the riders get sponsors (and companies form teams and become sponsors) in an effort to raise as much money as possible to fund cancer research. The underlying concept of their idea is that 100% of all donations will go to cancer research and the corporate sponsors (e.g., Luxco) will cover the administrative and overhead costs of operating the organization. And, in their sixth year, they have done an incredible job.
To accommodate all riding levels, there are ride lengths as long as 100 miles down to 15 miles. For 2015, there were nearly 3,000 riders who raised $3.1 million. Since beginning this ride six years ago, PTC St. Louis has raised $12.5 million in total! Luxco teamed up with the St. Louis Blues to sponsor the Blues corporate team. The Blues had 20 riders sign up and I rode as well. The Blues raised $19,000 (which was 18th overall for teams) and I raised $10,000, putting me in the top 25 fundraisers for the entire event. (Thank you to all my sponsors!!!!!) We have sponsored PTC as a corporation in the past, but I had never ridden in the event. Many people ride as a tribute to those they have lost to cancer. I rode in memory of our founder and my dad, Paul A. Lux, but also as a tribute to those fighting cancer daily. I rode the sixty-mile course and it was a fantastic experience. To boot … I had our #1 Blues fan "Henry" there to meet me at the finish line.
Luxco strives to give back to the community in many ways and this was a great event that we plan to support in the years ahead.
To learn more visit www.pedalthecause.org