Luxco Launches Vita Frute® Vodka Soda
April 20, 2020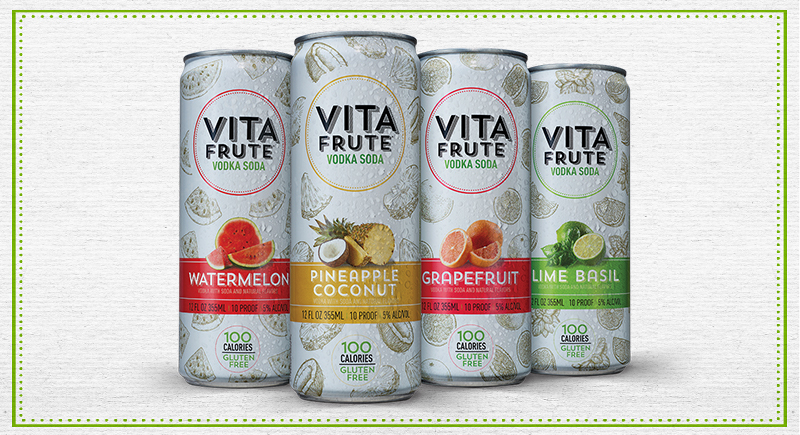 Company adds new products to ready-to-drink portfolio
ST. LOUIS (April 20, 2020) — Luxco launches Vita Frute® Vodka Sodas, a new addition to Luxco's ready-to-drink portfolio, featuring unique and refreshing flavors.
Vita Frute® Vodka Soda cans are crafted with American-made vodka, club soda and all natural flavors. The result – a deliciously, refreshing cocktail with 100 calories, gluten-free and 5% ABV. With four flavor offerings – Lime Basil, Watermelon, Grapefruit and Pineapple Coconut – these are perfect to drink on their own or use as an ingredient in another cocktail.
The hard seltzer category continues to experience strong growth. Over the past 12 months, hard seltzer sales have grown more than 202%*. The introduction of Vita Frute Vodka Sodas provides Luxco with the opportunity to innovate in an emerging category and expand distribution at retail.
"Consumers have shown enthusiasm for refreshing, low calorie, convenient cocktails," says McKenna Burst, brand manager at Luxco. "The hard seltzer category continues to experience strong growth – sales have skyrocketed and are expected to triple in growth by 2023."
For more information about Vita Frute®, visit vitafrute.com or follow @vitafrute on Instagram.
Contact: Pia Reinhold at pia@commongroundpr.com
*Source: Nielson 52 weeks ending November 2019
About Luxco
A leading producer, supplier, importer and bottler of beverage alcohol products, Luxco's mission is to meet the needs and exceed the expectations of consumers, associates and business partners. Founded in St. Louis in 1958, Luxco remains locally owned and operated by the Lux family. Lux Row Distillers brings the family's legacy to the heart of Bourbon Country in Bardstown, Kentucky and is now the home of Luxco's bourbon portfolio, including Rebel Yell, Blood Oath, David Nicholson, Daviess County and Ezra Brooks. Luxco has also built a new distillery in the highlands of Jalisco, Mexico – Destiladora González Luxco – where the company's 100 percent agave tequilas, El Mayor and Exotico, will be produced. Luxco's innovative and high-quality brand portfolio also includes Everclear Grain Alcohol, Pearl Vodka, Saint Brendan's Irish Cream, The Quiet Man Irish Whiskey, and other well-recognized brands. For more information about the company and its brands, visit www.luxco.com.