LUXCO QUARTER-CENTURY CLUB ADDS TWO NEW MEMBERS
January 5, 2015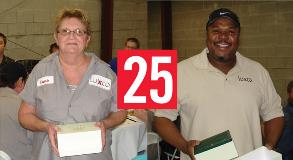 Bring on the Rolex! Recently, the two newest members of Luxco's prestigious Quarter-Century Club were gifted the sought-after custom Rolex watch, rewarded only to those people who dedicated at least 25 years of their lives to Luxco. This time, we applaud Tracy Becherer and Randy Watson for their achievement!
TRACY BECHERER
Tracy began her career at Luxco in 1988 as a seasonal worker and quickly transitioned to full time in 1989. Tracy has been a jack-of-all-trades in her time at Luxco. She has had multiple responsibilities, including case labeling, bottle washing and more. Currently, Tracy runs the E line packer, but, true to her form, is always willing to lend a hand where she is needed.
Over the years, Tracy has great memories of the projects she has worked on, but her favorite was the employee open house party. This was an event she helped organize where all the employee's families were invited to an open house tour and party at our bottling facility. But her all time favorite memory of Luxco is meeting her husband.
Tracy is truly grateful for her 25 years of service with Luxco. "The fact that I have been with Luxco for 25 years says how much I enjoy the company. I am just trying to keep up with all of the changes that have been made. I already love the watch I received. It is a nice gift to receive for our years of service, and I want to say thank you to Donn and his family."
RANDY WATSON
Randy joined Luxco on October 23rd, 1989, and hasn't looked back since! He started as a porter and, after jumping around a bit through the years, landed on his current position of Forklift Driver at the Luxco Warehouse.
From the get-go, Randy was attracted to the fast-paced, but friendly atmosphere Luxco created. He has seen Luxco grow exponentially over the years and has many fond memories, specifically all of the company barbecues! Randy's great personality and dedicated work ethic have made him a pleasure to work with, no matter what the task.
"I am very happy about receiving this Rolex watch," Randy stated. "Luxco is a great company to work for! I'm so appreciative to Luxco and proud of all the things I have achieved here. I am so very thankful to everyone!"
Thank you goes to both Tracy and Randy for your years of dedication to Luxco. Congratulations on joining the Quarter-Century Club!