LUXCO READY FOR THE HOLIDAYS WITH Q4 REBATES!
October 1, 2014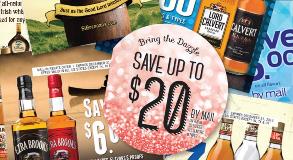 The holiday season is just around the corner, which means spirit sales are set to rise and Luxco is ready for the rush!
This year's significant rebates for the OND selling season are sure to help Luxco brands fly off the shelf. Rebate amounts include up to $20 off Pearl, $15 off Arrow Cordials, $6 off Rebel Yell and $6 off St. Brendan's, as well as additional rebates for Lord Calvert, Calvert Extra, Ezra Brooks, Wolfschmidt, Yago and Lady Bligh. Supplementary POS support for Pearl, Saint Brendan's and Everclear will provide an even more impactful shopping experience for our consumers.