LUXCO ROCKS OUT AT TWANGFEST
July 2, 2014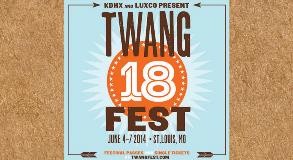 This summer, Luxco partnered with the St. Louis local radio station, 88.1 KDHX, to present the 18th annual Twangfest – a 4-night music festival celebrating Americana music and musicians.
Twangfest is not billed as a just an event; it's also a nonprofit organization working to preserve and promote the unique tradition and culture of Americana music. Taking place from June 4th – 7th at the concert venues Plush and Off Broadway in St. Louis, both national and local bands played for music lovers from across the area as they sipped on some Rebel Yell Bourbon and Pearl Vodka while dancing to their favorite tunes.
Partnering with arts and cultural institutions like KDHX and Twangfest is an important
reflection of Luxco's commitment to the City of St. Louis, where for nearly 60 years we
have continuously strived to give back to our great city and invest in the betterment of the community.
Thanks to all at KDHX, Plush and Off Broadway for a great event!