LUXCO SUPPORTS ATHLETES FOR ANIMALS
April 2, 2014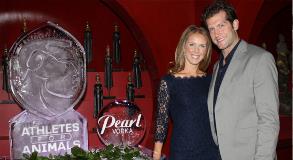 Luxco recently supported two marquis events that benefited the welfare of homeless companion animals across the country. Started by Kelly Backes and her husband David, a professional hockey player and captain of the St. Louis Blues, Athletes for Animals (A4A) is a St. Louis-based charity comprised of a united team of professional athletes with a shared passion for rescuing and protecting the welfare of homeless pets nationwide.
A4A's Launch party, held late in 2013 at Mandarin Lounge in St. Louis, and the Stars of
Sochi Event, held March 16th at Fleming's Prime Steakhouse and Wine Bar, were supported by Luxco and featured signature Pearl Vodka cocktails for all attendees. These two events attracted multiple professional athlete "ambassadors" and successfully raised money to benefit A4A's mission.
Thank you to Athlete's for Animals for allowing us to help in your important cause!
For more information about Athlete's for Animals, visit www.athletesforanimals.org.