LUXCO WINS AT WINCO
October 8, 2016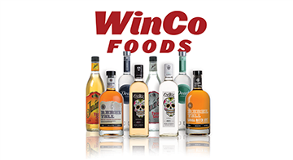 A privately held and predominately employee-owned American supermarket, WinCo Foods is based out of Boise, Idaho with 109 locations throughout the United States. With several of Luxco's brands placed in a large number of their locations, WinCo plays a crucial role as a retailer for many of Luxco's top performers.
Of all the suppliers that provide goods to stock the shelves of WinCo locations, Luxco was the #1 supplier with the most items accepted for the Fall reset at WinCo. Beginning on September 26, 2016, there will be 67 WinCo Foods locations adding more Luxco brands to their shelves. Exotico® Blanco, Exotico Reposado, Juarez® Gold, Juarez Silver, Pearl® Black, Pearl Cucumber, Rebel Yell® Kentucky Straight Bourbon Whiskey, and Rebel Yell Straight Rye will all be newly available in the 750mL size. Customers can expect to see these new distributions in Arizona, California, Nevada, and Washington.
As if this big win isn't exciting enough for these brands, WinCo will also be featuring Exotico and Rebel Yell in their October and December planners, and Pearl in November's planner.