Make Your Own Perfume Essential Oils with Everclear®
July 14, 2021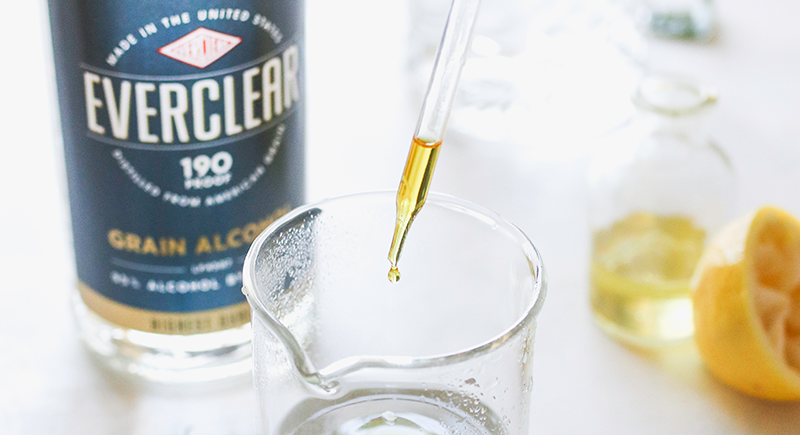 Everclear® – one of the most versatile products on the market – was recently featured in Hello Glow, a popular do-it yourself beauty blog viewed by hundreds of thousands of readers. The blog shared the secret to making long-lasting, custom perfume: Everclear.
As a grain-alcohol product with a high proof, Everclear makes a perfect base for spray perfumes because it helps bind essential oils to the water used in perfume recipes. Alcohols like Everclear also act as a preservative, ensuring a perfume has a strong scent projection and lasts for months.
EXPLORE AND CREATE ONE OR ALL OF THE FOLLOWING SCENT OPTIONS…
1. Sandalwood & Vanilla – A warm scent that smells sweet and somewhat earthy with noticeable coffee undertones. A perfect "anytime" scent that will effortlessly transition from day to night.
Essential oils needed: 8 drops bergamot, 4 drops sweet orange, 3 drops coffee and 12 drops vanilla.
2. Rose & Neroli – An uplifting spring scent with notes of grapefruit and vetiver. An ideal daytime scent.
Essential oils needed: 7 drops grapefruit, 6 drops bergamot, 7 drops neroli, 15 drops rose and 3 drops vetiver.
3. Cardamom & Frankincense – A soft and spicy fragrance featuring earthy notes of frankincense, patchouli and cedarwood. Great for nighttime use.
Essential oils needed: 9 drops lemon, 5 drops cardamom, 12 drops frankincense, 4 drops patchouli, and 6 drops cedarwood.
INGREDIENTS:
1 cup Filtered or Distilled Water
2 tbsp. Everclear Grain Alcohol
Essential Oil Blends
SUPPLIES:
Glass Perfume Bottles or Spray Bottles
Funnel (optional)
DIRECTIONS:
Start by pouring the water into a glass jar or spray bottle. Add the Everclear and essential oils according to the selected mix. Feel free to scale the recipe up or down depending on the bottle size. Close the bottle and shake well to combine. Allow the perfume to sit for 24-48 hours to let the scent develop fully.
To find your next DIY creation or culinary inspiration, visit Everclear's website at makeityourown.com.