MAS TEQUILA! 2015 TEQUILA PORTFOLIO SUCCESS
April 14, 2016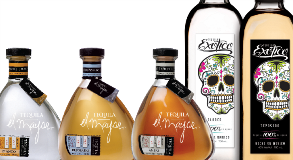 Last year was one of the most successful years yet for Luxco's tequila portfolio. Exotico and El Mayor experienced huge growth and category performance, outpacing the competition and winning a laundry list of prestigious awards. As two of our key brands, it's tremendously gratifying to see them skyrocket, and we can't thank all of our teams enough for doing their part in collectively making these brands such a success! Here are the numbers:
Exotico Is Experiencing Triple-Digit Growth and Outpacing the Category
Exotico Outpaces the Category, Driving Category Performance in Retail Accounts 14X category growth.
Exotico's growth trend YOY is up +138% vs. Category +10%

Award Winning Taste
2015 SIP Awards: GOLD (Blanco)
2016 Tequila Masters: GOLD, Premium Reposado Category

This year we plan to apply even more focus to the Exotico line, fueling the fire that was lit in 2015 and increasing awareness while building new points of distribution in key Exotico markets.
El Mayor is Experiencing Steady Growth and Racking Up the Awards


El Mayor Blanco:
2016 Tequila Masters – Silver
2015 International Word Spirits Competition – Silver Outstanding
2015 SIP Awards – Gold
2015 China Wine & Spirits Awards – Double Gold
El Mayor Reposado:
2015 SIP Awards – Platinum
2015 International World Spirits Competition – Silver Outstanding
2015 China Wine & Spirits Awards – Double Gold

El Mayor Añejo:
2016 Tequila Masters – Silver
2015 SIP Awards – Platinum – Best of Class Award
2015 International World Spirits Competition – Silver
2015 China Wine & Spirits Awards – Double Gold