MEIER'S WINES FEATURED IN FOOD & DRINK MAGAZINE
April 17, 2015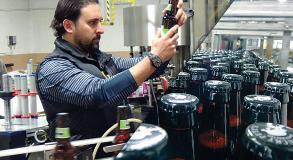 Luxco has been a producer of great products loved by many consumers for nearly 60 years. As impressive as that is, Meier's Wines, a wholly-owned subsidiary of Luxco, has been doing the same thing for over twice as long, and just recently was recognized in Food & Drink Magazine for its heritage and dedication to producing quality beverages!
Meier's Beverage Group is a leading producer, bottler, importer and marketer of specialty beverage alcohol and non-alcohol products with an outstanding portfolio of wines, juices and other spirits. Established in 1890 in Silverton, Ohio, Meier's is the oldest and largest wine producer in the state of Ohio.
Paul Lux, Vice President of Meier's, was recently interviewed by Food & Drink Magazine about why Meier's has been able to stick around for so long in such a competitive industry. He also explains how its newly-found diversification of its business has not only allowed it to flourish now, but has also set Meier's up to maintain that success for years to come.
You can read the entire article on page 136 of the Spring 2015 edition of Food & Drink Magazine.