MESSAGE FROM OUR CHAIRMAN – Q1 2015
April 17, 2015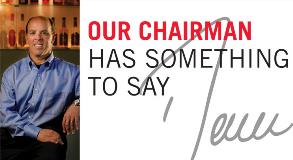 Happy 2015 to everyone and I hope you had a great holiday and New Year!
Thanks to all Luxco staff, vendors, suppliers, distributors and retailers for your assistance towards another successful 2014 for Luxco.
As I reported previously overall revenue growth was basically flat. Some of our brands did well and showed increases while some others were either flat or slightly declined. We took many price increases throughout the year and some brands' performances are reflecting the effects of the increase.
We did, however, accomplish some key projects throughout the year and in to the first quarter of 2015. To name a few key projects:
We completed the upgrade of our MRP system. This included the very difficult task of rolling Cleveland to the new system.

For Q2 2015, we will be integrating Cincinnati to the new system

as well.
We consolidated the brands from the Beam acquisition with the Luxco brands in many markets.

We evaluated our go-to-market strategies across the brand portfolio that resulted in some difficult decisions regarding distribution and pricing.

In 2014 our advertising and promotional spend invested in our brands was increased 50% and I have agreed to another 30% increase for 2015. Consumer related spending supporting our brands has tripled over the last three years.
We began the process of integrating the Luxco (St. Louis) manufacturing practices and standards into the Cleveland facility and into Meier's.

We completed the Limestone Branch Distillery transaction.

We evaluated and made the decision to leave the Park warehouse facility and will be transitioning to a former Hostess facility in St. Louis in April.
During March I held my first Luxco Advisory board meeting. Over the past number of years I had been reading about privately held businesses using advisory boards. Further, in talking with various colleagues in other businesses about an outside board, I found that many people had found them a valuable addition to the team. So, I hired a consultant who specializes in this field to assist me in putting the group together. While this board has no official voting capacity on Luxco matters, I am looking forward to working with them and with David, Dan, Steve & Steve in charting our course forward on many fronts!
Congratulations to Scott Sowles on the Outstanding Employee award. This was long overdue for a guy that works tireless hours to make sure we are all connected and operational 24/7!
As Spring is upon us, that can only mean one thing … NHL playoffs! Our Blues are playing well, which is great, but playoffs are a different story. Thanks for all of your good wishes for my "boys in Blue" and let's hope we have a great playoff run in April & May … and maybe June?
LET'S GO BLUES!