MESSAGE FROM OUR CHAIRMAN – Q2 2014
July 2, 2014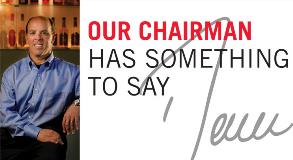 I enjoyed writing the article about the decanter business. It was fun to reflect back on those days when I was just in my teens, and then later as I joined the company out of college. We were just as proud then as we are now of what we had built (and continue to build), what we had to sell, and how we did business with our distributor and retailer partners.
Speaking of how we do business… as part of our refreshed mission and goals (and some overall strategic planning that I wrote about last quarter), we have embarked on a customer satisfaction survey through an independent third party. Most of the interviews are complete and they are assimilating the results. Thanks to all of our partners that offered feedback on what we are doing well and where we need to improve! I am anxious to see the results and will convey them to everyone once the project is completed. I had the pleasure of recently attending our national conventions of WSWA (open states) and NABCA (control states) as well as board meetings for our trade associations. This is a great time to see all of our customers and competitors, obtain a baseline for the business overall and see how we are stacking up. It is safe to say that most suppliers continue, as we do, to be challenged by the huge consolidation occurring at the retail chain store and restaurant levels. The power that these mega-chains have and are exhibiting over distributors and brand owners (like Luxco) is at a level I have yet to see in my 26-year career in our industry. We have never backed down from a good challenge and I don't see us doing that now! The industry overall remains healthy as our consumer base is continuing to expand, so I am confident we will continue to find our way! One main initiative for the Kemper facility this year is the integration of an in-line blending system. The installation was completed on time but the actual implementation and practical application of the equipment has been taxing to say the least. For those of you affected by this, I apologize for the long and arduous production days in seeing this through. Your dedication speaks volumes to getting our customers our products in a timely manner and doing whatever it takes to make that happen. Thank you!
We recently celebrated a 30th anniversary at Luxco with Mr. Mark Pirtle and held a company BBQ to commemorate the occasion. I love days like this where we can all sit back and enjoy such a great accomplishment. Well done Mark and thanks for all the years! In closing, I once again (as I did last year!) need to thank everyone for all the good wishes for our Blues … only to see them flame out in Round 1 against the Chicago Blackhawks. It wasn't meant to be this year BUT the draft is in a few weeks, free agency is coming up on July 1st & we start all over again! Keep the faith and Let's Go Luxco & Let's Go Blues!