MESSAGE FROM OUR CHAIRMAN – Q3 2014
October 6, 2014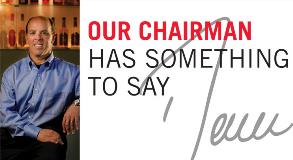 I hope that everyone had a wonderful summer and was able to take some vacation to spend time with family and friends. We were able to as well, as we do every summer, but it went by way too fast!
I want to first congratulate Tammy Piotrowski and Don Doran on their respective achievements of 25 years with Luxco! What a great job they have both done and we are all thankful for their years of service. My father, Paul, started a tradition many years ago of presenting a 25-year watch commemorating this milestone to anyone who achieved it and I have carried that on. Recently, I presented both Tammy and Don with their watches. I am honored to get to do this and love it every time. Tammy & Don – jobs well done! Thanks and congrats from all of your Luxco peers!
During the spring of this year we embarked on a project to consolidate our distributors in the markets where we had multiple wholesalers or agents due to the Beam acquisition. This was a very difficult and arduous project but one we felt was critical for success across our entire portfolio. We finalized the plans late summer and made the announcements and changes in early fall. Dan and his team did an outstanding job in getting this organized, evaluated and implemented. Thanks for a job well done!
This summer we "pulled the plug" on the in-line blending system which was a letdown for all of us. I know we had high hopes and asked a lot of many of you in seeing it through. In the end, however, it didn't make sense to implement it given the shortfalls we continued to experience with it. Thanks for your patience and efforts (and many long days and nights!) in trying to get this done. Your efforts spoke volumes about your commitment to Luxco.
In closing, I want to acknowledge the passing of Mr. Wesley James. Wes was a longtime Luxco employee whose young life ended far too soon. I was moved while attending the service to find out that Wes was a decorated Marine. He received military honors at his funeral which was an incredible and emotional experience. He had a quiet sort of way about him just working hard, showing up and doing his job. Not much fanfare … just results. Well done Wes! You will be missed but certainly not forgotten!