MESSAGE FROM OUR CHAIRMAN – Q4 2014
January 5, 2015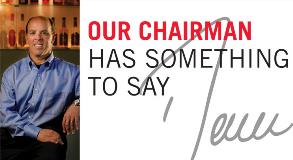 I had the pleasure of presenting two more twenty-five (25) year watches this quarter (after two others last quarter!) Tracy and Randy earned their watches recently as I presented them at a Luxco luncheon. Not surprisingly they were both very humble in accepting this great honor. Thanks again to both of you for your incredible service and the quiet way you go about your work! You set a great example for all of us.
I recently announced many new personnel duties and reporting structures. These promotions and re-assignments of duties were a result of many years of planning. My overall goal was to establish proper succession planning and do it from within current personnel at Luxco. Through the efforts of my executive team by hiring the right people, training them and those around them, and executing on our time plan, we were able to achieve our goal. I am thrilled with the result here and am looking forward to continued growth under new leadership in many areas.
The Control States continue to be a very important part of our business, representing nearly a third of our volume and growing annually. So, the fact that Rick was elected by his peers to the Vice-Chair role of the Industry Advisory Board is not only a great honor but comes at a great time in our evolution. While Rick is busy working alongside Ryan, and others, to transition the leadership sales role in the control states, he will remain in a critical industry role on this committee.
Normally, in the final newsletter of the year, I rave about the growth of our business that year and how it is continuing to expand. Well, you won't be getting that speech this year. Our overall business will be basically flat in 2014. The retail and distributor environments continue to pose challenges like I have never seen before. As the other tiers of the business get bigger and mightier they will continue to make it more challenging for us to get our brands to market and promote and market them effectively. That being said … we have NEVER been afraid or intimidated by a challenge and I am confident we won't be here! We have big plans for 2015 to get us on the growth track once again!
As we enter 2015, we will be going "live" on the Epicor upgrade that Amel and all the teams have been working so many hours on getting done. I ask in advance for your patience and help (when needed) to keep this project moving. I know everyone is exhausted (and sometimes fed up), but you are almost there, so please keep pressing along!
Finally, as this is the last newsletter for
2014, let me take this opportunity to wish
you and your families a happy and healthy
holiday season and a prosperous new year!