Mitch Retires
October 10, 2013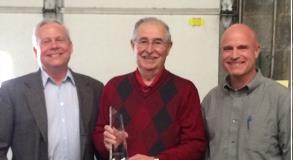 This past December saw one of the most tenured and respected members of the Luxco family leave us, as Robert "Mitch" Mitchell retired after 50 years with Luxco/Paramount Distillers.
In front of Luxco's executive team and Mitch's coworkers at the Cleveland facility, Mitch was presented a plaque acknowledging his dedication and hard work he exhibited throughout his long career with the company. A celebratory lunch on his behalf was enjoyed as well, as Mitch and his friends reminisced about the good times he had over the last 50 years.
Starting in 1963, Mitch has been an important member of the Paramount, and now Luxco, family. His experience gained throughout the years proved to make Mitch an expert in the production, warehousing and shipping departments. His knowledge of the industry will be missed, but not as much as the friendliness Mitch exuded every day to his peers.
Thank you, Mitch, for everything you have done the last 50 years … and congratulations on your retirement!