New Corporate Headquarters for Luxco®
October 15, 2021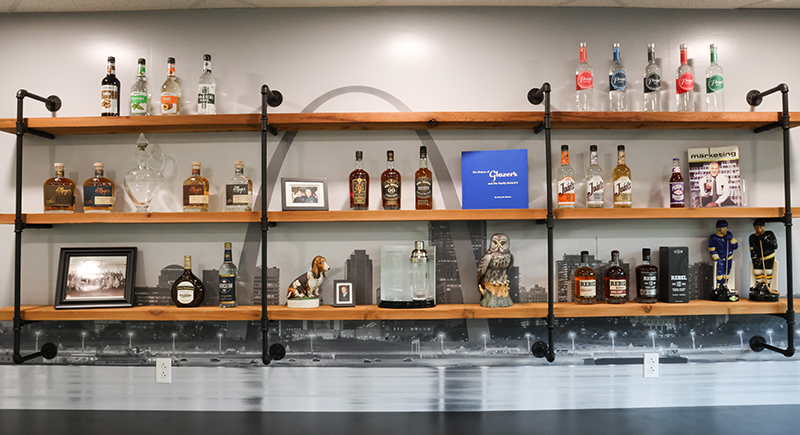 On May 3, Luxco® pulled up stakes on its downtown headquarters on Clark Ave and moved west to its new headquarters located at 540 Maryville Centre Drive in St. Louis County. The new Luxco headquarters, featuring 9,187 square feet of office and conference space, was designed and built from the ground up to meet the unique needs of the Luxco team.
In January, the process started when Donn Lux and Luxco President David Bratcher selected the site from among several options. They tapped Amel Pasagic and his IT team to bring their vision to life. Luxco employees and office guests can agree – Amel and his team delivered!
As employees and guests step inside the new space, they are met with the Luxco brands proudly displayed along the wall. Deeper inside the headquarters, colorful branded materials and images from the company's history are featured throughout.
While only a few hundred square feet larger than the former offices, the new location features an open-office design and flexible workspace to give the feeling of greater space and flow. Since 2020, Luxco employees have been working flexible hours and splitting time between working from home and office. The new area was built out with this flexibility and functionality in mind. Shared desk/office spaces feature convertible sitting/standing desks and extra storage to allow for the easy transition of each office between employees who share the space.
The most noticeable – and appreciated – upgrades involved the meeting and common spaces. Once a scarce
commodity in the old offices, conference-room space is readily available with five spacious conference rooms. In addition, the offices of the president and the heads of IT and Finance have mini-conference tables built in their offices to help ease the demand for meeting space.
The highlight and the centerpiece of the new Maryville Centre offices is the Paul A. Lux Conference Room. Presented on August 16 to Donn Lux to honor his father, the Paul A. Lux Conference Room features a timeline of the Lux family's history with the company, as well as a depiction of the St. Louis skyline. The design is both a celebration of the company's roots and where the heart and soul of Luxco will always live. The shelves on top of the skyline truly bring the history to life, with Luxco products and photos overlaying the skyline, a living exhibit of time, and a celebration of Paul's accomplishments as he grew the company.