NEW LOOK FOR OHIO FAVORITES
April 9, 2016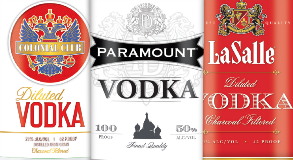 Luxco is refreshing three vodka brands: Colonial Club, LaSalle and Paramount. Together, these brands represent 400,000 cases per year and are especially important to our company's Ohio business, where they collectively represent 50% of the total case volume in that state.

"We are very excited for the package refresh on Colonial Club and LaSalle," says Pat O'Sullivan, Executive Vice President of Sales, Heidelberg. "It will grow awareness and ignite new distribution and display opportunities on our two largest-selling spirit brands. Our sales team and customers will enjoy incremental sales as the consumer is drawn to the premium look that the Luxco team has created."

The redesign was a collaboration between Luxco and two key distributor partners – Heidelberg, and Southern Wine and Spirits of Ohio. The objective is to increase awareness and distribution of these brands by giving them an update that creates a premium look, as well as establishes a cohesive brand family.
"I am very excited to be a part of the Paramount label refresh. It really gives the brands a consistent family look and feel. Great job by Luxco."
– Chuck Manchick,
Vice President/GSM,
Southern Wine and Spirits of Ohio